The Doric Quartet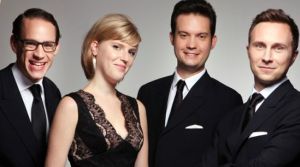 Alex Redington and John Myerscough, founding members of the Doric Quartet, have been playing together since they were 9 or 10 – not that long ago for these vintage 80's musicians.
Our own budding chamber players will remember this British quartet's visit last year to judge the national finals of the NZCT Chamber Music Contest last August.
They were looking then for "a great range of emotions and colours" from our young players. Tonight, the tables are turned as we listen to their Auckland concert of Haydn, Korngold and Schumann from the same New Zealand visit.
Schumann has become "very special" to this quartet, they explained at the time to Radio New Zealand Concert's Upbeat. Tonight we'll hear his love-letter to Clara Schumann, String Quartet in A Op 41/3.
The Doric players describe Korngold's second of three quartets as "light-hearted and virtuosic." His background as a Hollywood film composer can be heard in the "amazing Tom and Jerry-esque textures" and a last movement waltz that "just gets madder and madder…"
As for the great master of string quartets, Haydn – they play his music "whenever they can." It's just so full of "invention and creativity." We'll hear the celebrated "Emperor," Op 76/3.
Listen to Jonathan Stone and Alex Redington talking on RNZ Concert's Upbeat.
Doric Quartet: Alex Redington, Jonathan Stone (vlns), Hélène Clément (vla), John Myerscough (cello)
HAYDN: String Quartet in C Op 76/3, Emperor; KORNGOLD: String Quartet No 2 in Eb Op 26; SCHUMANN: String Quartet in A Op 41/3
Recorded in the Auckland Town Hall by Radio New Zealand Concert