Peter Scholes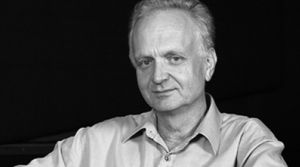 Aucklanders got a ticking off after this concert last May from Metro Magazine's David Larsen. "Do you know what you have in Peter Scholes and the Auckland Chamber Orchestra? … One of the cultural treasures of Auckland." They went on to award it Best Concert in 2014.
But there were a few empty seats apparently. Enter public radio – and a chance after the fact, Aucklander or not, to hear what Scholes and his dedicated band were all about that night.
For a start, new music that doesn't make you want to "stay home and clean the bath," as Larsen put it. Namely, the simple, sonorous, shimmering, string sounds of Latvian Peteris Vasks' Viatore (think along Gorecki, Pärt lines here). We played this last June in our Saturday morning request session, Your Choice. Quite likely someone had been, heard and liked.
And what about a small orchestra drawing a big name? This was a home-coming for John Chen, currently teaching music and maths in Zambia. It's an unexpected career move for a pianist catapulted to fame as youngest winner of the 2004 Sydney International Piano Competition. But as Chen put it in an Upbeat interview before this concert, he's "a bit of a radical when it comes to life."
This was his first appearance with the Auckland Chamber Orchestra in the city where he began piano lessons aged three and is still going strong as a doctoral student with the University of Auckland's Rae de Lisle. Here he plays Shostakovich's parodying musical romp, Piano Concerto No 1, with sidekick trumpet from Huw Dann.
Following that, a breather with Copland's meditative Quiet City before Britten's "full calisthenic work-out for string orchestra," Variations on a Theme of Frank Bridge. 
John Chen (pno), Auckland CO/Peter Scholes
VASKS: Viatore; SHOSTAKOVICH: Piano Concerto No 1 in C minor Op 35; COPLAND: Quiet City; BRITTEN: Variations on a Theme of Frank Bridge (recorded in the Raye Freedman Arts Centre, Auckland by RNZ)
Recorded in the Raye Freedman Arts Centre, Auckland by Radio New Zealand Concert