Robots in popular culture and the arts
Will artifical intelligence improve human lives? Or will robots become sentient and take over the world?
Whether at the forefront of science and technology, or within the best science fiction and art, humans have long been fascinated with mechanisms created in our image  – or to do our bidding.
An adaptation of Wulfsyarn by Phillip Mann
The tale of The Nightingale, the largest and most sophisticated spaceship ever devised by human or alien intelligence. Shortly after commencing its maiden voyage, and laden with alien life-forms which it was ferrying to their home-worlds, The Nightingale vanished without trace... only to reappear a year later,  profoundly damaged. The only creature still alive on The Nightingale was its captain, Jon Wilberfoss, and he was insane. 
The epic story is narrated by Wulf, an ancient but skilled and efficient auto-scribe.
Listen to the first series of Wulfsyarn by Phillip Mann
Listen to the second series of Wulfsyarn by Phillip Mann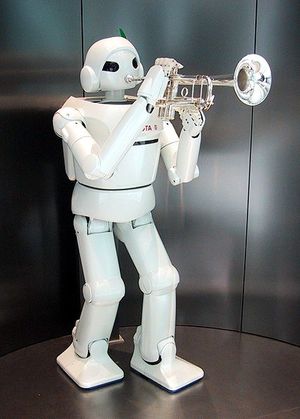 Robô by Toyota CC BY-SA 3.0 Chris 73.
Wind-up tin robot toys CC BY SA 3.0 D J Shin.
Shadow Dexterous Robot Hand holding a lightbulb CC BY-SA 3.0 Richard Greenhill and Hugo Elias.
Medical Robot Laparoscopic robotic surgery machine CC BY-SA 3.0 Nimur.
Military Robot: bio-inspired Big Dog quadruped robot PD BY DARPA.