Film Festival 2014
New Zealanders have been going to the 'flicks' in the local dream palace, flea pit or picture house since the early 1900s.
A collection of interviews and ephemera about movies covered by Radio New Zealand during 2014.
Please note New Zealand International Film Festival 2014 stories are in a seperate section.
New Zealand cinemas - Celluloid Circus
Find more about cinemas in New Zealand at Te Ara
Meteor Picture Theatre, The Square, Palmerston North. Photo by Snapshots Unlimited for 'From Swamp to City' by R H Billens and H L Verry from Palmerston North City Library, via DNZ
The Meteor Picture Theatre opened in the era of the 'talkies', in September 1937. It had a capacity of 940 and was considered one of the most up-to-date in the country. The Meteor was closed in 1963.

Former Victoria Theatre, Devonport, Auckland from Historic Places Trust via DNZ.

King's Theatre, Hastings. By David Williams from MTG Hawke's Bay via DNZ.
The photo was taken after the 3 February 1931 Hawke's Bay earthquake, while the cinema was being renovated for temporary usage under the name Cosy Theatre.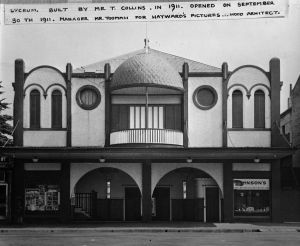 Lyceum Theatre, Feilding from Feilding Library via DNZ.
The Lyceum opened on 30th September, 1911. The architect for the building was Mr Hood. In 1914, it had a full orchestra for sound accompaniment of the movies. The Lyceum was renamed the Regent Theatre after being re-modelled in 1947. The building stood next to the Feilding Hotel in Kimbolton Road.

Majestic Theatre by Canterbury Heritage from Te Ara/ Ministry for Culture and Heritage via DNZ.
Promoted as "The Show Place of Christchurch," the city's largest theatre was leased to Christchurch Cinemas Limited... Fitted with sound apparatus for the "talkies," and seat plugs for hearing aids, it opened on the 1st of March, 1930.

Mayfair Cinema Kaikoura by geoftheref via Te Ara.
Tivoli Theatre, 1953. From Feilding Library via DNZ.
The Tivoli was built in the mid 1920s. Construction took two or three years owing to a cement shortage. It was destroyed by fire in February 1972.

Plaza Christchurch, 1940s by Patricia Scott from Kete Christchurch via DNZ CC NC SA 3.0.

Regent 3 Cinema Levin, 2000 by Mike Walker/ Horowhenua Historical Society Inc. via DNZ.

Regent Cinema Masterton, Wairarapa by Wairarapa Camera Club via DNZ.

Thames Embassy Cinema Coromandel by Thames Library Staff via DNZ.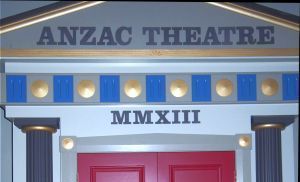 The Anzac Theatre, Dargaville. by RNZ. This community cinema featured in Country Life in 2014.

Ticket roll used at the Majestic Theatre Timaru (pre 1967) From South Canterbury Museum.