Bowls
The New Zealand Commonwealth Games team is hoping the once illegal sport of lawn bowls will result in a bigger medal return for New Zealand than the team achieved in Delhi four years ago.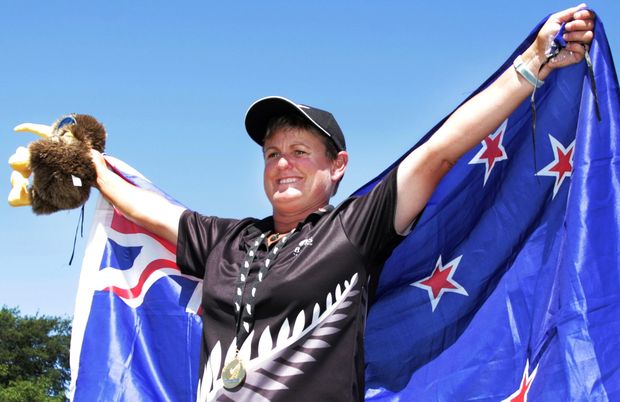 Val Smith is chasing Commonwealth Gold in Glasgow. Photo: PHOTOSPORT
The seemingly sedate sport was banned in England and France in the 1300s because it was overshadowing archery which was seen as essential to national defence.
However, bowls is among the 17 sports on the schedule for Glasgow while archery was dropped after the Delhi games along with tennis.
New Zealand has had slim pickings in the bowls at recent Commonwealth Games.
Four years ago in Delhi, the bowls team won just one medal – a silver for Val Smith in the women's single.
In Melbourne in 2006 it was a similar story with just one medal, a bronze in the pairs for Jan Khan and Marina Khan.
With bowls being a predominantly Commonwealth sport, many of the world's best bowlers will be competing on the greens at Kelvingrove.
There are eight gold medals up for grabs across the nine days in the men's and women's singles, pairs, triples and fours.
There will also be two para-sport events for visually impaired and disabled bowlers.
New Zealand has selected a 15-strong team.
Games veterans Val Smith and Ali Forsyth will anchor the team with young players including 19-year-old Selina Goddard and 22-year-olds Amy McIlroy and Mandy Boyd.  
Also in the squad is Nelson's Jo Edwards who won the women's singles title at the 2002 Manchester Commonwealth Games.
The team includes five bowlers competing in the para-sport events and 10 in the able-bodied disciplines.
Wellington's Blake Signal is the new face in the men's side.
Of the five para-sport bowlers, only triples player Barry Wynks has previously competed at a Commonwealth Games.
 
Men's Team
Singles - Shannon McIlroy
Pairs - Richard Girvan and Blake Signal
Triples - Ali Forsyth, Shannon McIlroy and Tony Grantham
Fours - Ali Forsyth, Richard Girvan, Blake Signal and Tony Grantham
 
Women's Team
Singles - Jo Edwards
Pairs - Jo Edwards and Val Smith
Triples - Mandy Boyd, Amy McIlroy and Selina Goddard
Fours - Mandy Boyd, Val Smith, Amy McIlroy* and Selina Goddard
 
Para-Sport Team
Partially Sighted Pairs - David Stallard, Peter Blick (director)
- Sue Curran, Christine Foster (director)
Disabled Triples - Lynda Bennett, Barry Wynks and Mark Noble

New Zealand flag bearer Valerie Adams at the opening ceremony of the Glasgow Commonwealth Games. PHOTOSPORT
External links