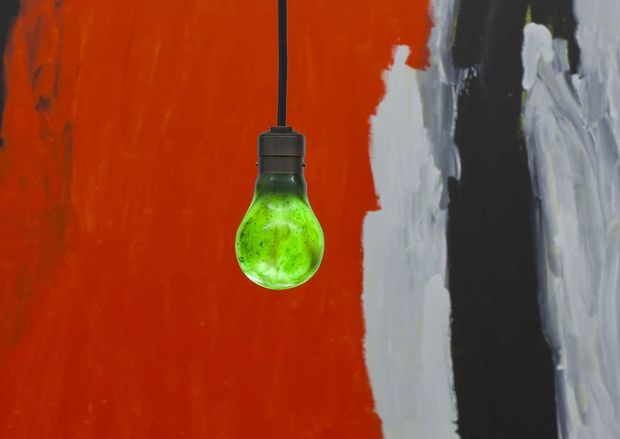 Image: Joe Sheehan - Bulb, 2011, jade, oxidised brass, electric cable and plug, LED bulb. Sally Gabori Thundi - Edition: 6 (detail) 2010, sythehtic polymer paint on linen. Courtesy the artists and Tim Melville Gallery. Photograph Kallan Macleod.
In front of a Wellington audience, composer Ross Harris, film-maker Louis Sutherland and poets Geoff Cochrane and Bill Manhire discuss differences and similarities in their approaches to creativity, the importance of words and limitations. Justin Gregory is in the chair.
We haven't the money so we have to think
According to leading New Zealand poet Bill Manhire, the stereotypical Kiwi view of creativity has its deficiencies. He cites "the famous Rutherford statement – we haven't the money so we have to think. You know, let's go and split the atom now because we're New Zealanders." As much as he applauds a can-do attitude, he doesn't think that artists and creators should be paid badly.
The key thing which he considers aspiring poets and writers should do is read, saying "You become a member of the audience before you become someone who performs to the audience."
It was reading the book Inside Hitler's Bunker which sparked Ross Harris's String Quartet No. 3. In the last weeks of Hitler's life inside the bunker in Berlin, the sentimental song Blood Red Roses (Blutrote Rosen), with its lyrics about future happiness, was played constantly on the gramophone.
Intrigued by this discovery, Harris used the melody as the basis for his composition. It starts with the end of the song, which the composer progresses to pull apart during the rest of the work. Deconstruction, he says, "is the process of changing all of the aspects of the melody that you know and love into something like almost its exact opposite. So that by the time you get a couple of minutes into it the piece is turned into something like an abstract painting, really."
The poet Geoff Cochrane is a great believer in the power of words and the need for precision in their use. He dismisses a contemporary Irish writer with the comment "It's absolutely beyond me how he has achieved any literary reputation whatsoever. He could not write an interesting sentence with a gun at his head."
His own approach to writing has led to incorporate what he calls "worksheets" into the finished text – marginal annotations in the form of short phrases separated by asterisks. This enables him to include those glancing ideas, those brief thoughts which lack the weight to act as poems on their own.
A recent project of the film-maker Louis Sutherland began with words devised by the actors. Asked to create a series of short films which could act as a showreel for graduates of Toi Whakaari, the New Zealand Drama School, he worked with the performers on a series of devised pieces which could all be filmed with very modest cost.
Thinking small has enabled Louis Sutherland to work satisfyingly with limited budgets – and it's a trend he sees in the work of film directors known round the world. "The model of film-making is changing" he says. "Going over to LA you hear now that a lot of the big actors are looking for small-budget films." Often these actors will own a percentage of it the film rather than charging the fees they would normally extract from a big studio.
The way in which these smaller films are made is also on the move. Louis characterises the old model as being "basically six or eight weeks of going crazy on set with a very short pre-production." However, directors like Steve McQueen, are spending more time and more of the budget preparing actors during a rehearsal period which is akin to what happens in a theatre.
"But because their preparation is so great, they'll walk onto a set, they'll use natural light, they'll shoot a scene which in four hours which would normally take a day, and call the day early." Having smaller teams and being well-prepared is something Sutherland is very interested in.
Related materials
Ross Harris
Geoff Cochrane
Louis Sutherland
Bill Manhire