Waitangi Day 2020 for Monday 6 February 2012
This year, Kim Hill and Paul Diamond (Curator, Māori, at the Turnbull Library) hosted a four-hour Waitangi Day Special from Puke Ariki in New Plymouth from 8.10am to 12:00pm.
Members of the Taranaki public were invited to be part of the audience for the live broadcast, and for the recording of the Korerorero on Sunday.
8:10-9:00 Korerorero with Keri Opai, Kura Denness, and Margaret Smith
(Recorded on Sunday 5 February at Puke Ariki, including contributions and questions from the audience.)
Keri Opai is a kaiako and has taught te reo Māori for almost 30 years. He has been a lecturer, grammarian, interpreter, academic and local iwi radio presenter.
Kura Denness is a director of Te Atiawa Holdings, Te Atiawa Settlements Trust and PHARMAC and is on the Council of Massey University. She serves on the board of Taranaki District Health Board and Tui Ora Ltd, is a trustee with the Midlands Regional Health Network Trust and is on the committee of the local Institute of Directors in Taranaki.
Margaret Smith is a Treaty educator who has been running workshops for 17 years relating to the Treaty of Waitangi and cultural issues surrounding this. She also works as a counsellor at the Western Institute of Technology at Taranaki.
9:05-10:00 Guests include Tokatumoana Kevin Walden, Derina Turner, and Rachel Stewart
Tokatumoana Kevin Walden is chairperson of Taranaki iwi, director of Parininihi ki Waitotara Incorporation (PKW) and a local rugby coach. He was formerly regional director with Te Puni Kōkiri (Ministry of Māori Development), a team leader with Child, Youth and Family and a strategic planner and advisor with the Department of Conservation relating to Treaty settlements.
Dee Turner of Korito Education teaches organic horticulture classes and runs workshops on her property situated at the base of Mount Taranaki. She is also the Organic Farm NZ Taranaki Certification Manager. She built a solar oven during the programme.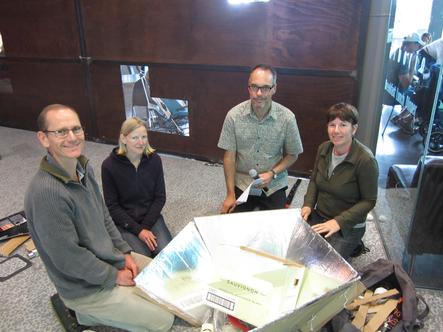 From right: Dee Turner with presenter Paul Diamond and two of her students, and her hand-built solar oven.
Rachel Stewart is a columnist for the Taranaki Daily News and the Waikato Daily Times, an avid falconer and former farmer-turned-environmentalist. She was the first female train driver in New Zealand.
10:05-11:00 Guests include Glen Bennett, Johannes Krook & Willy-Louisa Krook and Wayne 'Arch' Arthur
Glen Bennett is a New Plymouth community worker who provides a home for troubled teenage boys. Glen is also involved with running youth and cultural events, has his own mobile coffee business and is a musician.
Johannes Krook & Willy-Louisa Krook
Dutch couple who lived through the Second World War in Holland and moved to Taranaki in 1964. They recently attended the opening of the 'Anne Frank: A History for Today' exhibition at Puke Ariki.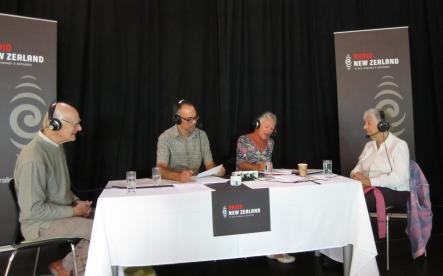 Kim Hill and Paul Diamond with Johannes Krook and  Willy-Louisa Krook.
Wayne 'Arch' Arthur is one of New Plymouth's original surfers who has been involved with surfing for 50 years. He's also a surf shop owner and local surf radio show host.
11:05-12:00 Guests include Michael Lawley, June Moseley, and Colleen Tuuta
Michael Lawley is a mechanical engineer and director of EcoInnovation, a local Taranaki business specialising in renewable energy solutions. He also developed Powerspout, a micro hydro generator.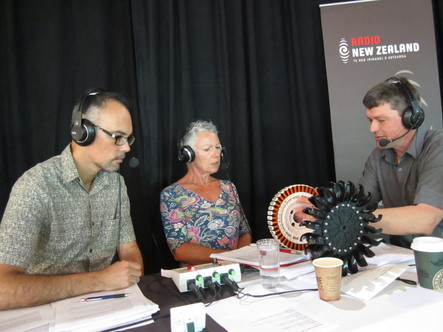 Paul Diamond and Kim Hill with Michael Lawley and a turbine
June Moseley is a former teacher at Spotswood College, who runs the local Taranaki Welsh group.
Colleen Tuuta is a self-employed businesswoman and local community leader, with tribal affiliations to Taranaki, Ngati Mutunga, Te Atiawa, Ngati Maniapoto and Ngati Mahuta iwi.
Waitangi Day morning team
Producer: Sean McKenna
Producer: Mark Cubey
New Plymouth engineers: Kevin Golding, Steve Burridge
Wellington engineer: Tony Schwartz
Waitangi engineer: Darryl Stack
Contacting the programme
Email  waitangiday@radionz.co.nz