Monday, 20 October 2014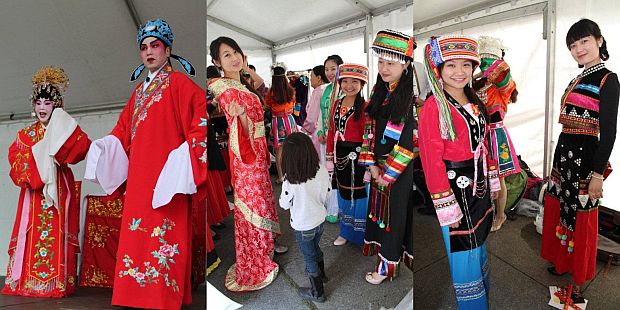 3:30 PM.Established to enhance understanding between China and countries around the globe, the 10th anniversary of the Confucius Institute is being celebrated by three universities in New Zealand. Lynda is at… Read more Audio
This year marks the tenth anniversary of the establishment of the Confucius Institute, created in the name of the great Chinese teacher and philosopher Confucius, to promote Chinese culture through partnerships at Universities across the globe. There are three Confucius Institutes in the country based at Victoria University,  Auckland University and Canterbury University. I've joined the public at Wellington's waterfront to check out this special festival, literally getting a "taste" of culture.
Amongst the costume displays from the 55 ethnic minority groups in China, are traditional music performances and food stalls. This includes demonstrations of noodle pulling and wonton making. The noodle pulling is particularly fascinating to observe as the chef dexterously creates perfect strands just by stretching the dough repeatedly through his fingers. I am tempted by the hot Sichuan food stall. Tasting a hot Sichuan peppercorn immediately makes my tongue lose all sensation.
"All the performers at this festival are bi-lingual exchange teachers, young Chinese Mandarin tutors" – says Tony Brown. "There are over 70 around New Zealand. They come from Xiamen University in China and are here for a one year programme between Ministries of Education to work at New Zealand's Schools teaching Mandarin at primary, secondary and some tertiary institutions across New Zealand."
Tony Brown was New Zealand's Ambassador to China, from 2004 to 2009. He is now the Chair of the Confucius Institute, at Victoria University.
"This was part of the Free Trade Agreement signed with China during my time as Ambassador there. It was signed in the Great Hall in Beijing. It's significance is even greater than we realised at the time. Most people look at China and New Zealand's relationship in terms of huge growth in trade but what is important is the growing Chinese population in our country. They're bringing Chinese culture into the mainstream of New Zealand's life. We need to be conscious of this cultural development as much as the economic growth."
Meeting Her Yueh and Shi Hoy Min, exchange teachers from Xiamen University, I learn that the cultural exchange is definitely a two way process. Shi Hoy Min is teaching at schools in Opotiki in the Bay of Plenty. While her students have learned Mandarin and Chinese culture, she has learned to go pig and deer hunting with her homestay family – and she loved it.
Today's special surprise finale performance is given by the touring Shaolin Monks. Looking around at families enjoying the festivities, listening to the 2,000-year-old traditional pi-pa entertaining the crowd as it's played like a banjo and nursing a slightly numb tongue after that Sichuan peppercorn, I'm sure Confucius would have been delighted with this cultural exchange too.
Gallery: Celebrating Confucius
Link:
Confucius Institute