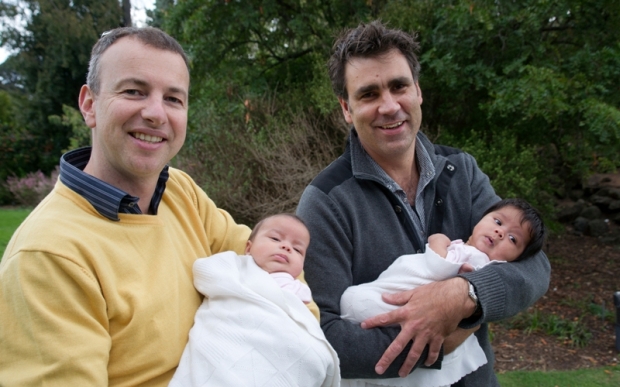 The Everingham family. Image supplied.
Surrogacy is the word used to describe the process when a woman has a child for other parents.
Here in New Zealand surrogacy is legal if you can find a willing volunteer surrogate. But you can't pay them more than their medical expenses, and also need approval from the Ethics Committee on Assisted Reproductive Technology (ECART). However donors are hard to find and, combined with the demands of the ECART approval process, it means that only a handful of people go through the process each year.
Meanwhile, there's a growing international surrogacy market as some countries do allow you to pay someone else to carry your baby. Costs vary depending on where you go, but can range from NZ$30,000 to $70,000 and upwards.
At least 24 New Zealand couples went through the cross-border surrogacy process last year but it does pose challenges, both for the couples trying to navigate their way through the system, and for the agencies trying to regulate it.
For example, earlier this year the Thai parliament voted to ban all commercial surrogacy after two high profile cases; one involved an Australian couple who left their son with Down's Syndrome in Thailand, but took his healthy twin sister home with them.
Sam Everingham successfully navigated his way through the legal and economic complexities of international surrogacy to start his own family. He set up a support group called Families Through Surrogacy to help others do the same.
Mr Everingham told This Way Up's Simon Morton, "We conducted a survey of about 15 big surrogacy clinics globally and the demand is enormous, particularly among Western countries which have poor access to adoption in their own country. We're getting really high use and we're seeing problems because when one country closes its doors then other countries open up and they're often not really ready to take on the demand."