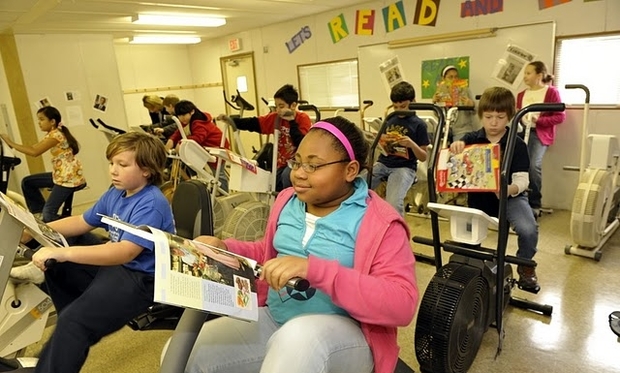 Image courtesy of Read and Ride, © Jay Sinclair.
Whatever science says about the benefits of standing over sitting, the average school day still revolves around pupils spending lots of time sat on their bottoms.
Now, some schools are wondering if there could be a better way and have started using everything from Swiss balls to standing desks to get school children moving around and more active.
That's the idea behind Read and Ride, a reading programme that encourages children to sit and pedal on pre-loved, unused exercise bikes while they read.
Scott Ertl is a school counsellor based in North Carolina who's also the national Program Coordinator for the Read and Ride program. He told This Way Up's Simon Morton that, in addition to the health benefits of moving around more, he's convinced that reading skills and learning improves when they become more active.