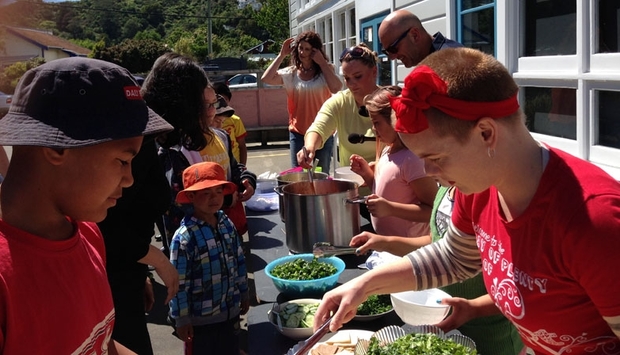 Photo: RNZ.
There are more than 100 farmers, all aged under 10, growing food for themselves at Epuni Primary School.
These children and their families are part of the Common Unity Project Aotearoa, an urban farm project which grows food and skills in the community.
Set up in 2012, an old football pitch has been transformed into a thriving vegetable garden and orchard. Every Wednesday children and parents meet up to cook a tasty lunch from food grown in the garden and donated food: all at a cost of about 10 cents per head!
This Way Up's Simon Morton visited the Koha Kitchen at Epuni Primary School to meet the project co-ordinator, Julia Milne, the children and their families.
Image gallery: Koha Kitchen at Epuni Primary School