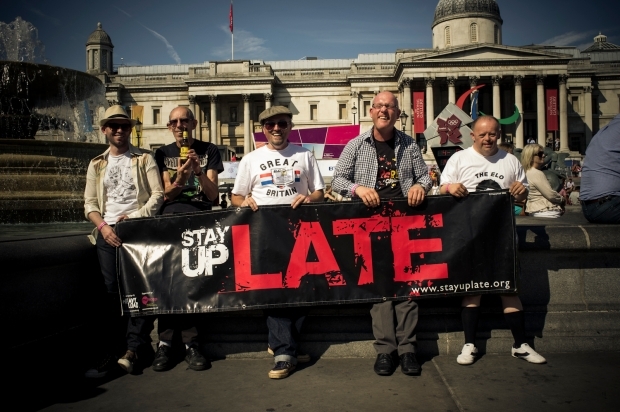 Photograph by Paul Richards.
"People with learning disabilities have every right to the active social lives that we all enjoy, the stuff that defines us and makes us feel part of our community and they are being denied it"
Many of us enjoy staying up late, going to music gigs, or watching sporting events, but it's not that easy for everyone.
Stay Up Late promotes the rights of people with learning disabilities to live the lifestyle of their choosing. They match clients and volunteer buddies with common interests and then they attend gigs together – from musical concerts, to sporting events, to church services.
Paul Richards, who set up Stay Up Late and Gig Buddies told This Way Up's Simon Morton,  "In the UK there's lots of people with learning disabilities who don't get a huge amount of funded support, so what happens is that they end up spending a lot of time at home in social isolation. Loneliness leads to all sorts of other things, poor mental and physical health, it's bad for communities to have people who are lonely".
Richards was inspired to start the charity because he was in a punk band called Heavy Load, which included three members with learning disabilities, and through that he saw the difficulty people like them were having at their gigs.
"We were frustrated because people were leaving our gigs just as we got on stage. It was because people who typically do have support have staff who work rigid rota systems who finish at 10 o'clock, so everyone leaves at 9 to be at home."
It's about reclaiming the night, and giving those with learning disabilities the same opportunities as the rest of us.