Sunday, 16 November 2014

Whaia te Iti Kahurangi, Ka tūohu koe me he maunga teitei

Pursue the noblest of intentions and goals, but if you bow your head let it be to a lofty mountain

- Nā Moana Maniapoto nō Ngāti Tūwharetoa, Te Arawa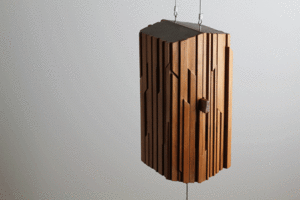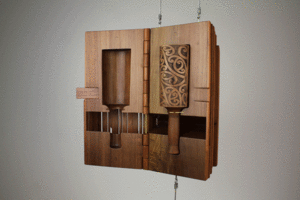 Tim Wigmore and Lyonel Grant, Tōtara.
Designer Tim Wigmore collaborated with six artists on Precious Cargo, an exhibition that features Tim's own contemporary interpretation of Waka Huia, intricately designed treasure boxes. The six featured artists in Precious Cargo are Veranoa Hetet nō Te Atiawa, Ngāti Tuwharetoa, Ngāti Maniapoto; Carver Lyonel Grant nō Ngāti Pikiao, Te Arawa, Taonga Pūoro maker Brian Flintoff, Jeweller Nga Waiata; Wood turner Graeme Priddle and Potter, Chris Weaver. Tim designs furniture pieces and light lampshades and runs his business designtree with his partner Rebecca, he discusses the work behind Precious Cargo.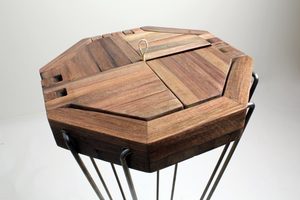 Tim Wigmore and Veranoa Hetet, Flax.                                                       Photo Credit: Tim Wigmore
I guess the start of the project was quite a lot of research, and I knew I wanted to make vessels or some sort of box or cabinet because I really like the mystery, you have a box that's closed and you have to engage with the piece, you have to open it. That small gesture of opening something instantly involves you with the piece.

- Nā Tim Wigmore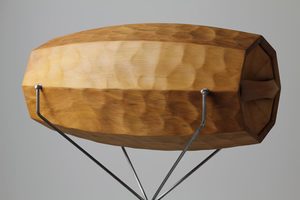 Tim Wigmore and Brian Flintoff, Matai.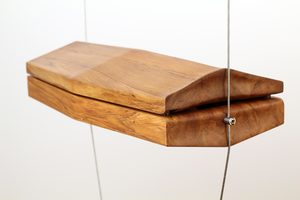 Tim Wigmore and Chris Weaver, Rimu.

Tim Wigmore and Graeme Priddle, Pūriri.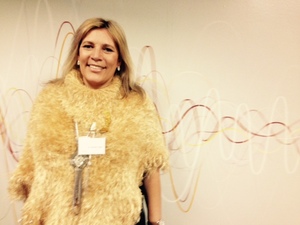 Caii-Michelle Baker at Radio New Zealand, 2014.

There is no doubt that one of Caii-Michelle Baker's career highlights was collaborating with American composer and Music Director Dr Benjamin Wright who has worked with a legion of famous singers, one of which included the late Michael Jackson. Caii-Michelle joins Justine in the studio to talk about her new album A Change is Gonna Come, set for release at the end of November.
(On working with Dr Benjamin Wright)

He's a taskmaster,  you know I learned a lot of things from him, everything from Benjamin  is a lesson,  I mean that's why when he rings me early hours in the morning often I've got the phone in one ear and recording him in the other because I don't wanna miss anything!… One very very important lesson to me is that he is the superstar,  he's the best in his field, and yet he is so gracious....but he is so humble, it reminds me of our own culture.

Nā Caii-Michelle Baker
When Justine Murray visited the home of artists Julie Noanoa and Norm Heke the first topic of conversation is the art in their home. Julie recycled coffee bean sacks to re-cover their lounge table chairs, for the couple it was a clever way of balancing the budget while maintaining their personal style. Julie and Norm launched their book, Māori Art for Kids this week; the book includes fifteen featured artists and fifteen art activities for kids.  Julie spent six months researching the project helped along with her background as a Primary School teacher, and a programme researcher for City Gallery and Te Papa in Wellington. One of the main themes of the book is making māori art accessible as they explain with Justine Murray.
Having taught thousands of kids over the years that have come through the doors, I've realised that there is, even in Te Ao Māori,  a need for  content about the tāonga.... I think that's what the kaupapa of the book is, accessibility of knowledge

Nā Julie Noanoa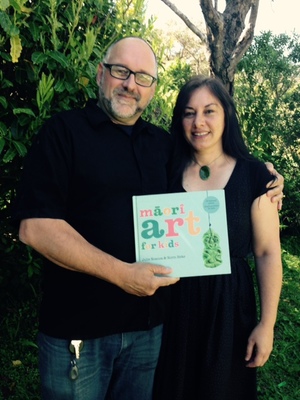 Norm Heke and Julie Noanoa, with their latest book.
Waiata featured: 'Help' performed by Caii-Michelle Baker from the album A Change is Gonna Come (2014). 'The Love' performed by Kirsten Te Rito from the EP Common Ground (2014).