Sunday, 16 March 2014

He Huarahi Tamariki
A pathway for our children
This week's whakatāuki is explained by Kohine Balejko nō Tuhoe
Blue Bach Productions Director Libby Hakaraia talks with Justine about the Inaugural Māoriland film festival. Her partner and fellow veteran broadcaster Tainui Stephens talks about how Māori stories depicted on film has changed over the last sixty years.
When teenage mums Zakiyah and Te Maamae became pregnant while attending high school, it was a life changing experience. One thing they both decided on was to continue their education, so they enrolled at He Huarahi Tamariki; a Ministry of Education funded school for teenage parents, located in Tawa. Justine Murray talks with teacher-in-charge Helen Webber who explains the positive change the school has made upon the lives of past and present students, evident in their proudly displayed Honours Board.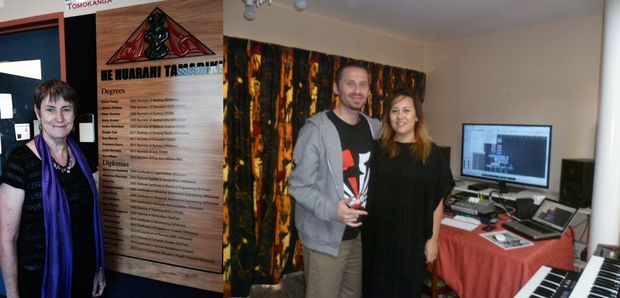 Helen Webber started her role at He Huarahi Tamariki in 2003. James Illingworth and Kirsten Te Rito.
Working late nights, writing and recording music, touring and raising a family is part and parcel of Kirsten Te Rito and her husband James Illingworth's life. Justine visits the couple at their home to talk about Kristen's new EP  Common Ground.
Waiata featured:  'Hine e Hine' performed by Saint Joseph's Māori girls' choir from the soundtrack album, Boy (2010); 'Sunshine', 'You Are', 'The East'performed by Kirsten Te Rito from the EP Common Ground (2014).