Sunday, 14 April 2013

6:00 PM.In Te Ahi Kaa, Justine Murray spends a morning with Chef-turned-entrepreneur Charles Royal. He's had a colourful culinary career including working as a chef for the New Zealand Army at 15 to creating… Read more Audio
He kai kei aku ringa
There is food at the end of my hands
It was the influence of his mother's cooking that inspired Charles Royal to pursue a career as a chef, eventually that would include stints with the New Zealand Army and Air New Zealand, but it's his knowledge in rongoa Māori (native plants) where he's found his niche. Kinaki Wild Herbs is his Rotorua based business that oversees the harvesting, and exporting of Māori native plants to national and international cuisine markets. Justine Murray spends some time with Charles in Rotorua and checks out a few plant gathering spots near Rotoiti.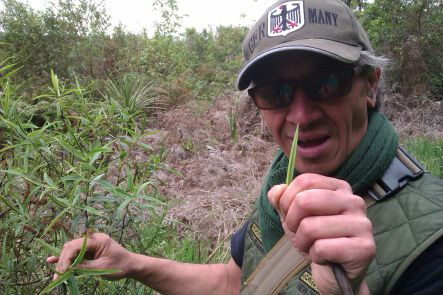 Chef Charles Royal.
The Mangapouri Stream in Otaki was once a local pataka kai (food larder) that flourished as a habitat for tuna (eels). Today the deterioration of the stream is evident with sediment, overgrowth of weeds and pollution. Pataka Moore nō Ngati Raukawa has a background in resource and environmental planning and is determined to get community and council support in order to restore it to his former condition. He explains the environmental and cultural significance of the stream with Our Changing world producer, Veronika Meduna.
There's plenty of Ngāwha (Thermal mineral pools) in Rotorua, the trick is knowing where they are.  As a natural thermal resource, according to locals Ngawha has beneficial therapeutic minerals. Soda Springs is one such place and is about thirty minutes from Rotorua on State highway 30, Justine Murray meets one of the owners Piripi Karauna.

Soda Springs mineral hot pools on the outskirts of Rotorua.
Waiata featured:  Hard for me and Beside you performed by Six60 from the album Six60 (2011)