Sunday, 10 March 2013

6:06 PM.In Te Ahi Kaa, Winiata Hotere and Charlotte Courtenay, the brother and sister of Ralph Hotere chat with Northland regional reporter Lois Williams about their brothers rise to fame in the art world and… Read more Audio
Kia Mau ki nga mahi toi
Hold steadfast to creativity
According to Charlotte Courtenay, the sister of Ralph Hotere (1931 – 2013), the whanau at Mitimiti is very proud that one of their own achieved success in the art world; but to them he was simply their brother. Charlotte and her brother Winiata Hotere talk about reminders of Ralph with Northland Regional reporter Lois Williams. His Santa Claus drawings at the local school and also memories of him as a keen sportsman who especially liked baseball.  Both sit down with Lois to reminisce about the early days growing up in the Hokianga.
Neke Moa was inspired by art at an early age watching her grandmother draw birds for the Royal Forest and Bird Protection Society. Since then with a number of studies in her kete in bone carving, raranga (weaving) and jewellery design, she draws on her whakapapa (genealogy) and social consciousness as inspiration for her work. Since 2011, Neke has been a part of the Handshake Project in which 12 Jewellers team up with mentors from around the world.  Justine Murray finds out more.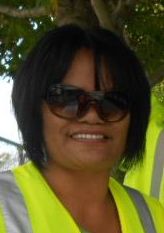 The Wairarapa Māori wardens' role at this year's Golden Shears was an important one, mostly ensuring the safety of the public and participants, Justine has a chat with shed-hand-turned-Warden, Brenda Hokianga.
Left: Wairarapa Maori Warden Brenda Hokianga
Waiata featured: I muri ahiahi and Te Wairua performed by Ngatapa Black from the album I muri ahiahi.