Sunday, 21 October 2012

6:00 PM.In Te Ahi Kaa, Ngati Ruanui and Nga Ruahine share the boundary where Ohawe beach - Te Rangatapu is and its where chairperson Daisy Noble was brought up. Maraea Rakuraku joins Daisy at Ohawe for a… Read more Audio
Ehara taku toa i te toa takitahi engari he toa takitini
My success is not by my work alone, but by the work of many
This week's whakatāuki is explained by Maisey Rika no Ngati Awa, Tuhoe, Te Arawa
One of the criticisms levied at the Waitangi Tribunal Claims process is that it potentially places neighbouring Iwi at war with each other. Another, Māori ownership of beach land removes Pākehā access. Maraea Rakuraku accompanies Daisy Noble to the boundaries her Nga Ruahine people share with Ngāti Ruanui that include Ohawe Beach- Te Rangatapu and sees in action how privately owned Māori land is unknowingly shared publicly every day.
Gallery: Ohawe Beach / Te Rangatapu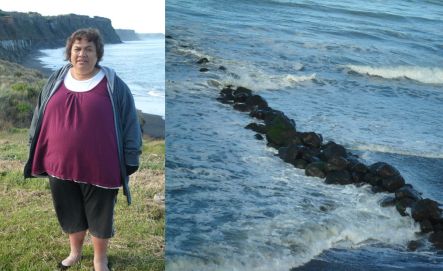 Left: Daisy Noble. Right: the groyne at Ohawe beach.
Justine Murray spends a morning with the "Graffiti Grannies" aka Jay Marson and Karina Ratana who spend their days driving around Porirua scoping out and then painting over graffiti.

Karina Ratana and Jay Marson out and about in Porirua.
On the back of a whirlwind promotional tour Maisey Rika talks about her third album, Whitiora.
Waiata featured: Haumanu, Tangaroa Whakamautai, Te Rua tekau ma waru, Pōmarie and Whitiora performed by Maisey Rika from the album Whitiora (2012), Espresso performed by Ariana Tikao from the album From Dust to Light (2012), In the Neighbourhood performed by Sisters Underground from the EP Sisters Underground (1994)