Sunday, 29 July 2012

6:00 PM.This week marks the 37th annual Maori language week. In an archival recording from 1978, Tuhoe Scholar John Rangihau addresses the importance of parents speaking te reo Maori in the home and how this… Read more Audio
Iti rearea teitei kahikatea Ka Taea
The small Rearea bird can reach the top of the Kahikatea Tree
This week's whakatāuki is explained by Sophie Tauwehe Tamati nō Tūhoe, Ngāti Maniapoto
When you've spent most of your lifetime looking and fishing in a harbour you start to notice when things change. Steve and Delia Morunga describe to Maraea Rakuraku how the pollution of the Rawene Harbour coupled with the water quality within the Settlement, impacts upon their lives.  
Heard of cultural mapping? We hadn't either, yet it's an example of Dr Ocean Mercier's work at the interface of Mātauranga Māori and Western Science and, an aspect of her teaching practice that was recognised through a 2012 Tertiary Teaching Excellence Award. The Victoria University Lecturer chats with Justine Murray.
In 1975 Te wiki o te reo Māori – Māori language week was first introduced in Aotearoa. Three years later Selwyn Murupaenga interviewed Tūhoe Academic John Rangihau (1918 – 1987) about the status of Te reo Māori and where it sat, at that time, within New Zealand Society.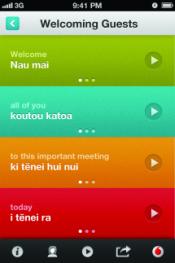 Hika Lite is a smartphone application that takes inputted text, and translates it into a Te reo Māori sound file potentially enabling two way Te Reo Māori conversations.  Developed by Sophie Tauwehe Tamati, Justine Murray tests its user-friendliness.
Waiata featured: Taku Rakau e performed by Whirimako Black from the album Shrouded in the Mist / Hinepukohurangi (1999), Tāonga performed by Huia Hamon from the album Huia's Waiata (2012).
Te Wiki o Te Reo Māori
Kia ora tatou! Anei etahi o nga whārangi ipurangi hei Awhina i a koe ki te akona I te reo Māori me nga kaupapa Māori hoki.
To recognise Māori language week 2012, here are a few handy websites to help you learn maori words, and a few Māori organisations and their roles.
Māori Language
Stories about Māori place names in the South Island
Te Taura whiri i te reo Māori / The Māori language commission
Māori Dictionary
Te Ara in Te Reo
Māori people and biographies