Sunday, 25 March 2012

6:00 PM.Music promoter and producer Vicky Gordon feels it's about time the patriarchy got a shakeup in the music industry as she explains to Maraea Rakuraku. Justine Murray profiles Maraeroa Marae and what… Read more Audio
Kia hora te marino, kia whakapapa pounamu te moana, Kia tere karohirohi i mua i tou huarahi
May calm be spread around you, may the sea glisten like greenstone and the shimmer of summer dance across your path.
This weeks whakatāuki is explained by Shane Te Ruki nō Ngāti Maniapoto, Ngāti Pōrou
In 2002 Tigertown, a suburb in New Plymouth found itself in a stoush with the World's most famous golfer.  Jimmy Pokere explains.
Music Producer Vicky Gordon reckons it's time the voices and stories of Indigenous Aboriginal, Māori and Papua New Guinean women were heard across the land and she created Barefoot Divas: A walk in my shoes to do just that.  Maraea Rakuraku sits with her at the Wellington rehearsal of the show, which took the 2012 Sydney Arts Festival by storm 
Not only is Maraeroa Marae, Waitangirua - Wellington an example of how a complex of repurposed buildings can form a marae but how manaakitanga from one Iwi (Ngāti Toa) towards others, lives on both physically and metaphorically.  Justine Murray tours the marae with Mike and Julie Dwyer.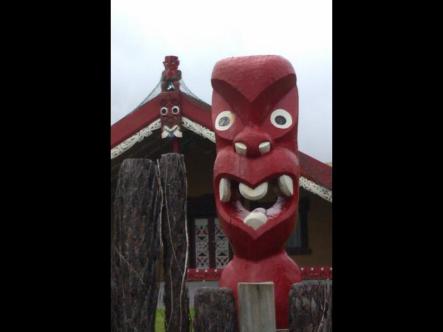 The front of Ukaipo Hiato Wharenui at Maraeroa Marae.
Waiata featured: Moumou performed by Whirimako Black from the album Hinepukohurangi: Shrouded in the Mist (1999); Smile Society performed by Emma Paki from the album Oxygen of love (1996); Letting go performed by Maisey Rika from Iwi hit Disc 29 (2009); Ngarraanga performed by Emma Donovan from the album Ngaarraanga (2009) This one be Killa (live) performed by Merenia from the album Libertine (2008)