Sunday, 26 February 2012

6:00 PM.Combining printing skills with his open brethren faith led to pakeha Graeme Batley establishing Maori Postal, the Whanganui based organisation behind daily mailouts of bible lessons and scripture in… Read more Audio
Whaowhia te kete Matauranga
Fill your basket of knowledge
This week's whakatāuki is explained by John Broughton nō Ngati Kahungunu ki Heretaunga, Kai Tahu.
There was a time after European contact that Tainui Iwi, dreaded the loss of the art of weaving.  You wouldn't say that's the case now as Tainui-Waikato Iwi weavers Diggeress te Kanawa (1920-2009), Erenora Puketapu-Hetet (1941-2006) are some of the nations most revered tohunga raranga (master weavers).  Their works are displayed as part of Tai Timu, Tai Pari: The Tainui exhibition, Journey of a People at Te Papa Tongarewa. Justine Murray tours it with tangata whenua host, Te Makau Te Ruki.
Batley isn't a Māori surname which makes sense as the Batleys aren't Māori.  So, what is a Pākēha middle class, Open Brethren church going family doing as the face of Māori Postal?  Maraea Rakuraku visits the Whanganui based organisation responsible for sending bible scripture to Māori communities since the 1970s.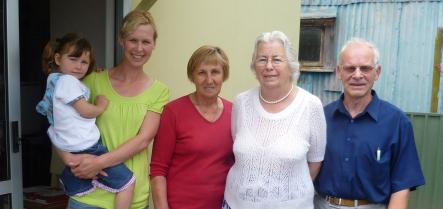 Batley whanau Maori Postal Whanganui 2011.

In the 1980s John Broughton (right) started writing as a response to what he saw as inaccurate portrayals of Māori character and experience, all the while fitting in an academic career as a dentist.  He talks about Michael James Manaia, a play last staged over twenty years ago resurfacing again in this year's International Arts festival.
Waiata featured: For the life of me performed by Prince Tui Teka from the album Prince Tui Teka Greatest hits (2002), Michael James Manaia performed by Te Rakau hua o te Waotapu from the album Kia Maumahara (1994) Perception performed by Electric Wire Hustle from the album Every Waking Hour (2009)