Sunday, 29 January 2012

6:00 PM.In the first show of the year, Justine Murray is at Ratana Pa and talks to an array of people who explain what the Ratana celebrations mean to them, and how they continue to keep their faith strong… Read more Audio
"Kororia ki a Ihoa o nga mano te matua, te tama, te wairua tapu me nga anahera pono. Te Mangai tautoko mai aianei ake nei ai"
"Blessings of the father and son, Holy spirit; faithful angels and the devine mouthpiece"
This weeks whakatauki is explained by Ned Ihaka nō Muriwhenua
Tena koutou katoa! Nau mai ki tēnei hotaka tuatahi mo te tau hou.
Happy New Year and welcome to the first Te Ahi Kaa show for 2012.
This week Justine Murray heads to Ratana Pa on the outskirts of Whanganui and takes in the final day of the week-long birthday celebration.  Apotoro Rehita (Registered Apostle) Ned Ihaka who travelled with his whanau from Te Kao in the Northland to attend the event explains the meaning of the Ratana star and the colours worn by Morehu (Ratana Followers) to represent their regions. 
Labour MP Rino Tirikatene shares a few memories of growing up at the Pa, and why Ratana is still very much a relevant political forum. Twenty two year old Clarie Lewis also grew up at the Pa and explains why Ratana celebrations are a good time for Rangatahi to find out more about their Ratana faith.

From left: 22-year-old Clarie Lewis; Apotoro Rehita Ned Ihaka; and Davy Eden and Apotoro Marshall Asher.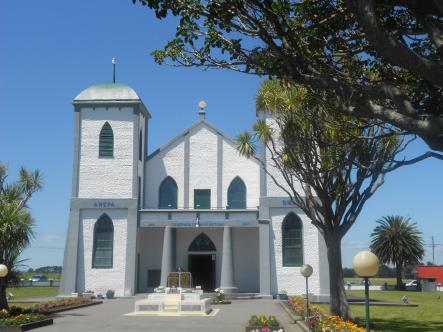 Ratana pa.
Justine Murray talks to Ngawiki Dickson, a team member of the Motiti Island Iwi liaison team about how residents there  are coping on the island with an increase in debris after the collapse of the Rena ship.
In our archival segment Nga tāonga Korero from 1968, Broadcaster Ted Nepia provides an explanation of the Tahupotiki Wiremu Ratana and how the movement began, and the late Whetu Tirikatene Sullivan (1932 – 2011) reflects on her father Eruera's involvement in the Ratana political movement Koata.
Waiata featured: It's alright performed by Ria Hall from the self-titled album (2011), Rere Reta Rere Reta performed by Ruia Aperahama from the album 12:24 (2008)