Sunday, 4 September 2011

6:05 PM.In Te Ahi Kaa, we feature an archival recording of te reo Māori advocate and Ngati Pōrou Sir Tamati Reedy.  The event is the World Indigenous peoples conference in education held at Tūrangawaewae… Read more Audio
"Kia hiwa ra, Kia hiwa ra, Kia hiwa ra.  Kia hiwa ra ki tēnei tuku kia hiwa ra ki tēra tuku"
Be watchful be alert.  Be watchful to this terrace, Be alert to that terrace
This weeks whakatauki was explained by Te Hau Mitai nō Ngāti Pikiao; Tuwharetoa; Whakatohea.
"Too long we have been brainwashed into believing that our own indigenous languages of the world are not compatible with the modern world.  We no longer succumb to the colonisations of our minds forcing us to believe that we must give away our indigenous languages in order to be part of our global community. We know that is rubbish and it's time to say it loudly around the world"
Sir Tamati Reedy (1990)
Te Ahi Kaa presents a kōrero by Sir Tamati Reedy delivered at the World Indigenous Peoples Conference in Education (WIPCE) in 1990 held at Turangawaewae Marae, Hamilton.
Supported by his whānau, in 2003 Wetini Mitai established Mitai village, Rotorua - a tourism business aimed at giving visitors a traditional Maori experience but with a modernised twist.  Justine Murray spends time with Te Hau Mitai touring the complex created with the intention of hosting visitors to the highest standard. 
Gallery: Photographs of Mitai Maori Village.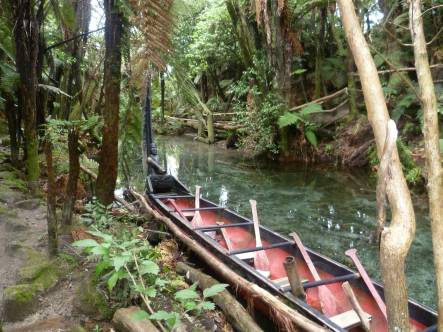 Te waka Turehu at Mitai Māori Village.
 
Even Welsh crooner Tom Jones, was a fan.  Modelled on their American counterparts, Māori show bands were a dime a dozen in 1950's and 1960's New Zealand and one of the more high profile, were the Māori Volcanics.   Saxophonist and bass player Selwyn Rawiri reminisces about the four month period he spent touring Australia in 1967 with the Volcanics.  He also chats about his nomination in the 2011 Waiata Maori Music Awards.
Waiata featured: 
Your past for years performed by Anna Coddington from the album Cat and Dog (2011); Blue Darling performed by Selwyn Rawiri from the album Māori Volcanics 1967-2002 (2002); Time Makes a Wine performed by Ardijah from the album Take a Chance (1988)