Sunday, 24 April 2011

6:15 PM.E kore matou e warewaretia - 28th Maori Battalion special. Audio
24 Paenga Whāwha 2011
E kore rātou e koroheketia pēnei i a tātou kua mahue nei
E kore hoki rātou e ngoikore Ahakoa pēhea i nga āhuatanga o te wa.
I te hekenga atu o te rā, Tae noa ki te aranga mai i te ata
Ka maumahara tonu tātou ki a rātou.
They shall grow not old, as we that are left grow old:
Age shall not weary them, nor the years condemn.
At the going down of the sun and in the morning
We will remember them.
There are not many 16-year-olds who can take on the responsibility of the whānau farm, but that's exactly what Te Whānau ā Apanui, John Waititi did when his father died. A few years later he joined the 28th Māori Battalion rising through the ranks to Major. He reminisces about his time at Te Aute Maori Boys College, which started with a surprise rail car journey from Raukokore.
Right: Judy and John Waititi, 15 December, 2010, Taupo RSA.
Monty Soutar and Leanne Tamaki are the dynamic duo behind a website that aims to be the repository of all things relevant to the 28 Māori Battalion.
Paul Moon has joined the chorus believing Haane Manahi (1913-1986) deserved the Victoria Cross following his actions at the Battle of Takrouna 1941. So much so, he's written a book about it.
There's nothing like a parents pride as Justine Murray discovers when she talks with Te Atakura Classen at the Ngarimu VC Tertiary Scholarships Awards ceremony where her son, Luke was one of scholarship recipients.
And Nolan Raihania nō Ngāti Pōrou, Ngai Tāmanuhiri, one of the 28 Māori Battalion veterans present at the launching of a series of postage stamps memorialising New Zealand Victoria Cross holders.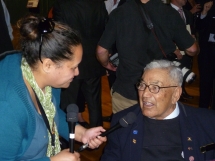 Left: Justine Murray with Nolan Raihania. Right:Arthur Midwood with Corporal Willie Apiata VC.

An example of the VC Stamps - Moana-Aui-a-Kiwa Ngarimu.
Waiata featured
E kore ratou/ Ode of Remembrance performed by Hine Parata-Walker and Monty Soutar and obtained from the maoribattalion.org.nz website, Tēnei matou e tū atu nei, Rukuhia; E Wawata, Au e ihu; and Maori Battalion from the album Ake Ake Kia Kaha e, Songs from the Māori Battalion (2006) and Last Post performed by the New Zealand Army band from the album Lest we forget (1960)