Sunday, 5 December 2010

6:10 PM.Marama Pala represents the growing demographic of heterosexual Maori women living with the HIV virus. Audio
05 Hakihea 2010
"Tangata takahi manuhiri, he marae puehu "
"A person who mistreats his guest has a dusty marae"
This week's whakatauki is explained by Wiparata Ngatoko (nō Ngāti Ranginui).
When Marama Pala was diagnosed with the HIV virus in 1993 aged 22, it felt like a death sentence. Some eighteen years later she is a staunch advocate for educating people about the disease, and runs the Māori (Indigenous and South Pacific) HIV/Aids Foundation, INA. Maraea Rakuraku discusses how life has worked out for Marama in the decades since her diagnosis.
Renowned Ngāti Pōrou composer Ngoi Pēwhairangi and singer/songwriter Dalvanius Prime penned the Waiata Poi E, performed by the Patea Māori Club. The song, which went to Number One in the Top 40 charts in 1984, received huge airplay on Iwi radio, and is considered one of New Zealand's musical classics. This year, it returned to the same charts after featuring in the movie Boy. Maraea Rakuraku heads to Taranaki and talks to members of the Patea Māori Club, Patricia (Bib) Ngarewa, Vera Kershaw and Waimarie Cassidy to get their take on the song's resurgence.
Justine Murray attends the launch of the Māori designs which will brand Rugby World Cup 2011 merchandise, and talks with designers Wiremu Barriball, Tracey Tawhiao and Leon Kipa.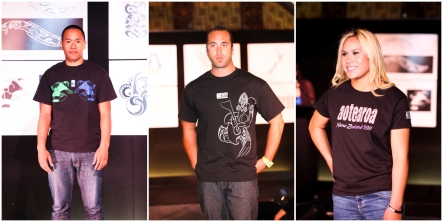 From left: Designer Leon Kipa wearing his design, toa; male model wearing tumatauenga designed tee shirt by Wiremu Barriball; and model Horiana Samuels wearing the wairua design by Tracey Tawhiao.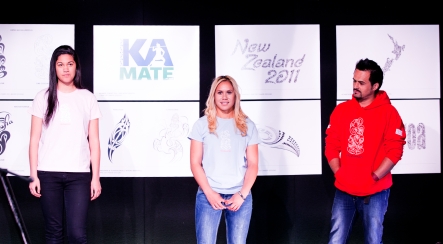 Models at the launch of RWC designs - Shane Hansen pictured in the red hoodie with his design, aroha.
Photos of Rugby World Cup 2011 design launch supplied by Te Puni Kōkiri.
Waiata featured:
Poi E performed by Patea Māori Club on the album Patea Maori club and Dalvanius (2000); Marangai performed by Whirimako Black on the album Iwi Hit Disc 22 (2007)