Sunday, 28 February 2010

5:00 PM.What does breastfeeding have to do with cannibalism? Kai Tahu academic Te Maire Tau reviews the book This Horrid Practice by Paul Moon. Audio
28 Hui tanguru (February) 2010
"Mauri Kai Mauri Ora."
Good Kai makes you well.
This week's whakatāuki was explained by Pete Peeti nō Ngāti Pikiao, Te Atihaunui a Papārangi.
Maraea Rakuraku meets with some of the characters that make Morikau Station, Whanganui, a lucrative farming operation. There's Hari Benevides, who recalls the prejudice encountered by her grandfather from banking institutions and Harvey Bell, who in appearance seems Pākeha, but is in fact a descendent of one of the original shareholders - Hohi Matene. Then there's Jimmy Edmonds who continues to be amazed at the navigational skills of his old people.
See images of Morikau Station.
According to Te Maire Tau the current global fascination with vampires is more inappropriate than the cannibalism practiced amongst Māori 170 years ago. Which is why he's confused by one of the positions taken by Paul Moon in his 2008 book This Horrid Practice: The Myth and Reality of Traditional Māori Cannibalism - that Māori ate human flesh to make up for not being breastfed.
There's something about Māori Television's Kai Time on the Road that speaks to heartland Aotearoa which may have something to do with its host's upbringing in a small rural community. It seems that the practical skills Ngāti Pikiao, Te Ati Haunui a Papārangi chef Pete Peeti (below) gained growing up in Mourea works whether he's at the end of a rifle stalking deer or creating a masterpiece in the kitchen. Justine Murray finds out more.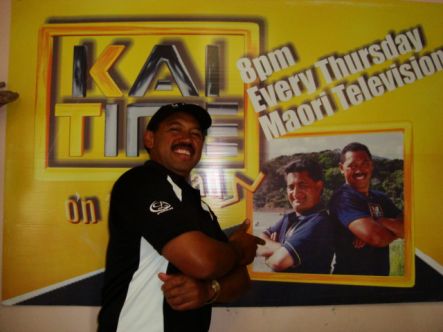 Maori chef Pete Peeti host of Maori Television's, Kai time on the Road.