Sunday, 6 September 2009

1:00 AM.Former butler now kids author Tommy Kapai and John Panirau, Naomi Bunker and Iaean Cranfield of Wairewa Marae. Audio
06 September 2009
"Ko au he Tangata moemoea"
I am a Dreamer
This weeks whakatāuki was explained by Tommy Kapai (Ngāti Ranginui).
Elton John wore a wedding dress, Nicole Kidman was polite, and former Beatle, George Harrison was interested in the All Blacks and Māori culture. Those are just some of the memories Tommy Wilson has from when he travelled the world as a professional butler. The darker side of the glitz and glam lifestyle meant that temptation was never far off, and Wilson became addicted do drugs. Returning to Aotearoa 20 years ago he now advocates a drug, smoke and alcohol free lifestyle while writing children's books under the pseudonym Tommy Kapai. Justine Murray sits in on a session with the original Kapai the Kiwi author, as he shares stories with the kids from Arataki Primary school in Tauranga moana.
Tommy Wilson, aka Tommy Kapai, reads from his Cuzzies series to the kids at Arataki Primary school in Tauranga
See more pics in the Te Ahi Kaa image gallery.
Forget the hospital visits and rehabilitation stereotypes because according to occupational therapist Jacob Tahitahi (Ngāti Manuhiri), his profession is more closely aligned with the holistic nature of Hauora Māori, than any other. He talks with Ana Tapiata about the drive to attract more Māori into the Occupational Therapy workforce.
Baby boomers John Panirau (Te Ati Awa, Ngāti Mutunga), and Naomi Bunkers' (Ngāi Tahu) experiences of Wairewa Pa differ to that of their Generation Y whanaunga, Iaean Cranwell. For one thing, Panirau and Bunker grew up in the 1940s around the pa whereas Cranwell grew up in the 1970s in Australia. In part one of an interview with Maraea Rakuraku, these active members of Wairewa discuss the history of Wairewa and its people. Part two will be broadcast next week.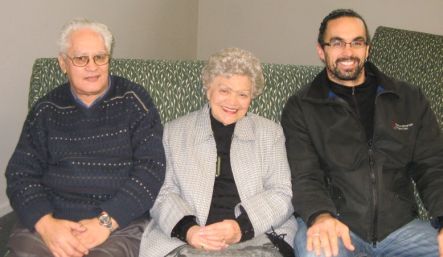 John Panirau, Naomi Bunker and Iaean Cranwell
The view at Wairewa
Maitreya Jamie Greenslade is a finalist yet again in the APRA Maioha Award category of the 2009 APRA Silver Scroll Awards that recognises excellence in waiata Māori composition with an emphasis on te reo Māori. In 2008 it was the track Waitaha from his debut solo album Close to Home (2008). This year it's Whakakotahi Rangatahi. Te Ahi Kaa features waiata from Maitreya in the lead up to the ceremony on the 17 September in Christchurch.