Sunday, 21 June 2009

7:00 PM.ItÂ's in the blood and a real whanau affair for the Church and Halley families whose lives revolve around Rodeo. Audio
21 Pipiri (June) 2009
"E raka te Maui, E raka te katau"
The left hand can also work with the right hand.
Explanation by Dray Haronga nō Ngāti Kahungunu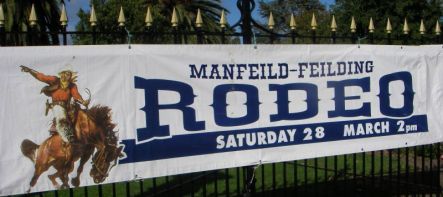 Justine Murray and Maraea Rakuraku bring you the Beginners Guide to Rodeo from the Manfeild-Feilding Rodeo held on 28 March 2009. They learn about the more practical aspects of the sport such as the value of having sturdy trees, healthy horses, the hazards of the sport and the need for quality gear.
With the rodeo year running from February to February, and a winter hiatus in between from Easter until Labour Weekend in October, the life of the cowboy/cowgirl is one that revolves around team work and travel. Therefore, getting on with your crew, who usually tend to be whānau, becomes necessary because you spend so much time on the road together. Te Ahi Kaa profiles two families involved in rodeo, the Church whānau, nō Te Arawa, Te Ati Haunui a Papārangi me Ngāti Maniapoto, and the Halleys, nō Ngāti Pōrou.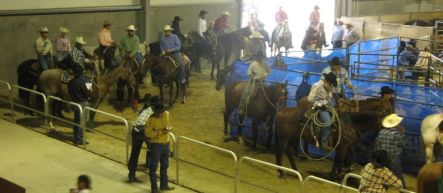 Rodeo ridersline up at the Manfeild-Feilding Rodeo.
See more images at theTe Ahi Kaa gallery.
Charlie Halley nō Ngati Pōrou got his first taste for rodeo when he met a relation who had won a title. Now, both he and his daughter Kiwa join the ranks of only four Ngāti Pōrou rodeo title holders. When he's not winning Team Roping events Halley is a pick-up rider and like a motor mechanic who has a different tool for specialised tasks so too do riders. He details the differences between saddles and why horse welfare is so important in rodeoing.
Self-effacing Kiwa Halley is the first woman to hold a team roping title. Not bad for the 22-year-old daughter of Charlie Halley whose had a lifetime of rodeo events.
Brothers Dion, Clarry, Daryl and Corey Church have learnt rodeo from the best. Their father Merv Church, no Te Ati Haunui a Papārangi me Maniapoto, is a rodeo legend. Since 1973 Merv has won the All Rounder Award, 15 times, a record that has been equalled by his eldest son Dion Church. Younger son, Corey Church is this year's rodeo season All Round champion and credits hard work and a love of the rodeo for his success. As too does Clarry Church the previous seasons All round champion.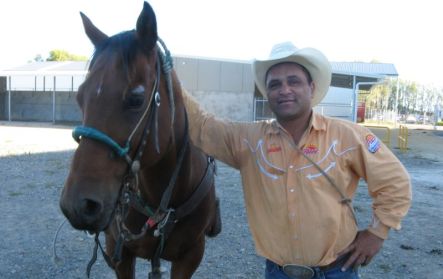 Clarry Church and his horse Bart.
See more images at theTe Ahi Kaa gallery.
Despite it being her 60th birthday, the 28th March 2009 started off as any other day for Sue Church, Merv's wife and mother of their six children. She cooked breakfast from the back of a house truck doubling as a horse float and bunkhouse, and prepared her whānau for a rodeo event. For the Ngāti Pikiao woman the past 45 years as the matriarch of what could only be described as New Zealand's rodeo royalty, has enabled her a lifetime of farming, whānau and horses.
In 1995, the cover of Mana Magazine (8) showed a feisty toddler clad in jeans, cowboy hat and barefeet on a western saddle mimicing a cowboy in a rodeo. Now aged 18, Johnson Davis's preference is for bull riding and he finds he avoids all the usual teenage distractions because of his love for rodeo.