Sunday, 15 February 2009

6:06 PM.It's Countdown time until the Matatini. Audio
15 Hui Tanguru (February) 2009
"Ma te tokomaha ka māmā te mahi."
With the help of many, the load is lightened.
Voiced and explanation by Te Uta Rolleston, nō Te Whānau a Apanui, Ngāti Ranginui, Ngai te Rangi
According to Otago University academic, Brendan Hokowhitu[1] the authenticity of the character Koro Paka as a male Māori leader in the 2003 movie Whale Rider is questionable given that it feeds into the Pākeha construct of Māori masculinity. How this impacts upon Te Ao Māori overall is discussed with Maraea Rakuraku.
An event like the annual Kāwhia Traditional Māori Kai Festival becomes sensory overload as your eyes, ears, tastebuds and nose get a workout. Maraea Rakuraku samples some of the more unusual offerings at the kai stall of Te Kore Ratu including kangapurehu, the delicacy known as fluffy corn and kawakawa tea.
Kawhia Harbour at dusk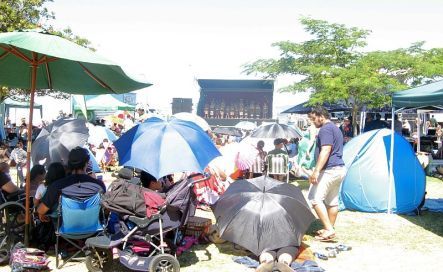 Kapahaka at the Kawhia Tradional Māori Food Festival
Te Ra o Raukura, the annual peace festival held at Te Whiti park in Lower Hutt, hosted a number of reggae and dub bands, carnival rides and kai (food) stalls. The festival attracts hundreds of local Māori proving an opportune time for the National Heart foundation to promote their One Heart; Many Lives campaign as led by Ngāti Pōrou nurse Marama Pōrere. Two years ago, Tamati Davis weighed 250 Kilograms and faced a serious health crisis. Motivated by his nephew, who wanted his uncle Tamati at his 21st birthday, he began a health regime that forced him to give up smoking and lose weight. So, who better to be a role model for the Māori men lining up to get their ticker checked out, as he explains his journey to wellness to Justine Murray.
Iwi of Mataatua region (Bay of Plenty) have joined forces to host the bi-annual National Kapa Haka Competition - Te Matatini from 19 Thursday to 22 Sunday February at Baypark in Tauranga. Communications advisor Te Uta Rolleston talks about the potential challenges and risk management plans.
Member of Olmecha Supreme King Homeboy Toby Wan-Kanobi aka Paul Teariki Toki-Love talks beat boxing and give us a taste of what has made him New Zealand Beat Box Champion for the past three years.
Waiata featured include:
Apocalyse No 1 Olmecha Supreme from the album Schematica
---
[1] Contact Brendan at brendan.hokowhitu@otago.ac.nz for copies of his paper. The Death of Koro Paka: Traditional Māori patriarchy.