Sunday Morning for Sunday 19 October 2014

7:08 Current affairs
Te Ururoa Flavell discusses the changing face of Maori politics and Wallace then talks to political commentator Morgan Godfery. We speak to Toke Talagi, the premiere of Niue – which this week celebrates 40 years of independence in free association with New Zealand; and Prof Jane C Ginsburg talks about copyright wars.
8:12 Insight Culturally Motivated Crime in NZ
Forced and underage marriage, family violence and female genital mutilation –when is it culture and when is it a crime? Does this country have the laws to deal with these issues and is any extra legislation needed? Insight joins with Voices, Radio New Zealand's programme promoting greater understanding of NZ's ethnic minorities, to gauge what needs to be done, if anything, to protect women and children.
Produced by Philippa Tolley.

Malalai Sadat Youth Advocate for Shakti Women's Refuge, Auckland - Photo: RNZ/Lynda Chanwai Earle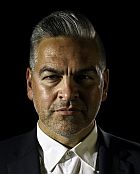 8:40 Victor Rodger – Return of Sons
Sons was initially staged 20 years ago and is Victor Rodger's first play. It's the semi-autobiographical story of a son who visits his dying father after a 10-year silence and embarks on a journey into his unexplored Samoan heritage. Most recently, Victor Rodger's play, Black Faggot, was performed at the Edinburgh Fringe Festival.
Sons is produced by the Auckland Theatre Company and is on at the Mangere Arts Centre.
9:06 Mediawatch
Mediawatch looks at coverage of the ISIS crisis and the tightening of our anti-terror laws; PR people re-consider their reputation in the wake of Dirty Politics; and who's hiring journalists for a new media outlet that's little more than a new name and a rumour?
Produced and presented by Colin Peacock and Jeremy Rose.
9:40 Wayne Brittenden's Counterpoint
The Ministry of Business, Innovation and Employment has called on the Royal Society to review its code of ethics on scientists who speak out. Wayne takes up the issue of academic freedom. Wallace follows up with Canterbury University's Professor Jack Heinemann.   
10:06 The Cost of Economic Crime
A draft government report obtained by Radio New Zealand estimates the cost of economic crime to the New Zealand economy is between $6.1 billion and $9.4 billion each year. We take a look at what's in the report and talk to criminologist Professor Michael Levi, who helped develop the UK's National Fraud Indicator which inspired the New Zealand report; Victoria University associate professor Lisa Marriott from the School of Accounting and Commercial Law; investigative journalist Matt Nippert; private investigator Michael Campbell; and Deloitte's forensic accountant Barry Jordan.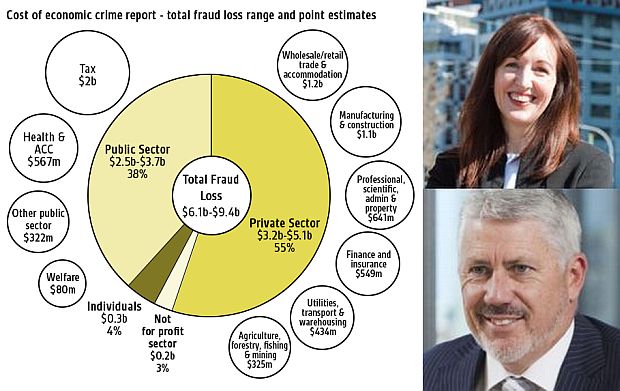 Top right: Lisa Marriott, Bottom right: Barry Jordan
11:05 Thierry Loriot – Jean Paul Gaultier
At 21, Thierry Loriot was snatched up by a modeling agency and sent off to Paris to work for fashion greats such as Burberry, Zegna and Lavin. His first modeling assignment was with the great Mario Testino and Kate Moss. He has now given up the catwalk for curating – and he has brought one of the most-visited fashion exhibitions in the world to the National Gallery of Victoria in Melbourne. He talks to Wallace about the exhibition From the Sidewalk to the Catwalk – The Fashion World of Jean Paul Gaultier.
11:25 Al Brown – Food Lover
In 1996, Al Brown and Steve Logan opened the award-winning Logan Brown restaurant in a grand former bank building in Wellington. After 12 years Al Brown moved to Auckland to open Depot Eatery & Oyster Bar. He followed up with Federal Delicatessen and Best Ugly Bagels. He talks to Wallace about his career in food, writing, and his great love of fishing.
Hear RNZ's Amelia Nurse talk to Al Brown about bagels - and Montreal

11:40 Tyler Brule – Magazine Man
Once described as someone who "isn't scared of war and knows a good pair of trousers" – Tyler Brule is the creative mind behind one of the world's greatest design bibles: Wallpaper magazine. The Canadian journalist is now editor-in-chief of Monocle – which covers everything from politics to global affairs to shopping. He speaks to Wallace about his new collaboration in New Zealand.
---
Sunday Morning is produced by Christine Cessford, Zara Potts and Jeremy Rose
Music: Zen Yates-Fill
Research: Clare Gleeson, Anne Buchanan, Yumi Nagafuchi
Wellington operator: Carol Jones
Auckland operator: Andre Upston
---
Music played in this show
Artist: My Brightest Diamond
Song: Pressure
Composer: Shara Worden
Album: This is my Hand
Label: Asthmatic Kitty Records
Broadcast Time: 8:40
Artist: Tweedy
Song: Summer Noon
Composer: Jeff Tweedy
Album: Sukierae
Label: dBpm Records
Broadcast Time: 9:40
Artist: alt-J
Song: Warm Foothills
Composer: Joe Newman, Gus Unger-Hamilton and Thom Green
Album: This Is All Yours
Label: Infectious Records
Broadcast Time: 11:25