Sunday Morning for Sunday 7 November 2010
Sunday for 7 November 2010
8:12 Insight: Pacific Obesity
Insight looks at the issue of obesity among the Pacific Island population in New Zealand. Why is the community getting fatter at a faster rate than others? Is it culture and economics or a toxic mix of these factors?
Written and presented by Richard Pamatatau
Produced by Sue Ingram
8:40 Jon Johansson - Obama's Next Move
Our local expert on the Obama administration, Dr Jon Johansson from Victoria University, examines the result of the US mid-term elections. He'll discuss why the result panned out the way it did, the overall composition of the Congress, and the strategic outlook for President Obama - the economy, war, and the 2010 presidential primaries.
9:06 Mediawatch
Mediawatch investigates why Samoa's government is angry with TV3, and has called in lawyers to pursue its grievances against the broadcaster. We also look at who is behind a new weekly paper that's sprung up in the big cities, and why an unremarkable court case in Wellington was reported all over the country - and overseas.
Produced and presented by Colin Peacock and Jeremy Rose.
9:40 Paul Warren - Language and Perception
In our monthly language slot Associate Professor Paul Warren, Head of the School of Linguistics at Victoria University, explores the relationship between language and thought, and language and perception. We investigate how language frames our world and alters our perceptions.
10:06 Paul Lewis - The Life of Sir Terry McLean
For more than 40 years, TP McLean was regarded as New Zealand's foremost sports writer. What is less well-known is that McLean was also a soldier, a policeman, and a spy. He kept many secrets that were not revealed until his death aged 90, when his son began sorting his personal papers. Paul Lewis uses much of this paperwork as the basis for his biography and he reveals that despite the stories he wrote on others, parts of McLean's life remain a mystery.
'TP: The Life and Times of Sir Terry McLean', by Paul Lewis with Jock McLean is published by HarperCollins.
10:45 Hidden Treasures
This week on Hidden Treasures our host Trevor Reekie introduces new music from Wai, who have been taking their individual brand of Maori electronica to a global audience. He also explores the songs of the great French lyricist George Brassens, transcribed into English and currently getting rave reviews in New York.
Produced by Trevor Reekie
11.05 Ideas: Modernism
The Gus Fisher Gallery in Auckland and Wellington's Adam Art Gallery are both currently hosting exhibitions celebrating architectural modernism. So, what is it about modernism that continues to fascinate and inspire? Ideas explores the nature of modernism and its impact on New Zealand with Julia Gatley, the author of the recently published 'Group Architects: Towards a New Zealand Architecture,' and Bob Fantl, a former colleague of the most celebrated modernist architect to work in New Zealand - the Austrian refugee Ernst Plischke.
Presented by Chris Laidlaw
Produced by Jeremy Rose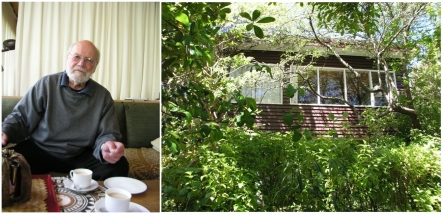 Bob Fantl in his 1950s modernist house in Wellington.
11.55 Feedback
What you, the listeners, say on the ideas and issues that have appeared in the programme.