Sunday Morning for Sunday 13 June 2010
Sunday for 13 June 2010
8:12 Insight: The Honours System
Insight asks whether changes need to be made to the honours system. Should an independent body be appointed to decide who receives honours, instead of a group of Government politicians as happens now?
Written and presented by Belinda McCammon
Produced by Sue Ingram

8:40 Robert Patman - The Road to 9/11
Robert Patman (right) says it was not the 9/11 attacks that transformed the international security environment, but the failure of the US/UN actions in Somalia in 1993. Professor Patman argues the botched US raid in Somalia began the US aversion to intervening in failed states - a shift which emboldened al-Qaeda to emerge and attack America, bringing in the era of international terrorism. Robert Patman is a Professor of International Relations at the Department of Politics, University of Otago.
'Strategic Shortfall: The Somali Syndrome and the March to 9/11' by Robert Patman is published by Praeger.
9:06 Mediawatch
Mediawatch this weekend focuses on television, with more views on its 50th anniversary here, how the milestone's being marked, and the medium's digital future. Mediawatch also looks at a maverick TV show that hit the headlines this week by hoaxing another one. Was this an irresponsible and tacky publicity stunt? Or did it do us all a favour by highlighting serious flaws in the news media?
Produced and presented by Colin Peacock and Jeremy Rose.
9:45 Janet Stephenson - Landscape and Identity
Janet Stephenson says that landscapes aren't just about beautiful scenery - she explores how important aspects of landscapes are what individuals bring to them. In a new book, 'Beyond the Scene', the editors asked 11 writers to choose a landscape that was important to them and to write about it from the perspective of their life experience and knowledge. Janet Stephenson is a Senior Research Fellow at the Centre for the Study of Agriculture, Food and Environment at Otago University.
'Beyond the Scene: Landscape and Identity in Aotearoa New Zealand' is edited by Janet Stephenson, Jacinta Ruru and Mick Abbott and is published by Otago University Press.
View some of the landscapes chosen by the contributors.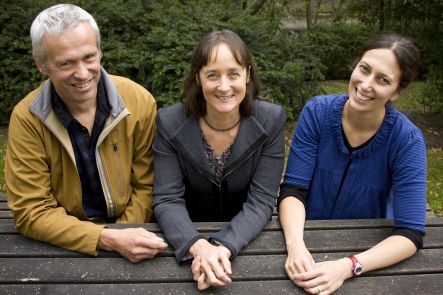 Co-editors Mick Abbott, Janet Stephenson and Jacinta Ruru.

10:06 Ken Crispin - Looking for Justice
Ken Crispin is a former judge of the Australian Supreme Court. He talks to Chris Laidlaw about the strengths and weaknesses of the legal system, mandatory sentences, loss of rights due to the fear of terrorism, the 'war on drugs', the effect of 'tough on crime' rhetoric of police and politicians, and other issues which threaten justice in Western societies.
'The Quest for Justice', by Ken Crispin, is published by Scribe.
10.40 Notes from the South with Dougal Stevenson
Dougal reflects on the damage caused by cannabis-dealing gangs.
10:45 Hidden Treasures
Each week Trevor Reekie presents Hidden Treasures, uncovering musical gems that are often buried under tons of other stuff from here, there and over that a-way!! This week Trevor digs up a couple of glorious retro tracks from the world of jazz and blues, and features sound from the new solo album by Roxy Music's guitarist Phil Manzanera.
Produced by Trevor Reekie
11.05 Ideas: Historian Tony Simpson on the individuals, writers and thinkers who influenced his ideas
Historian Tony Simpson is the author of 14 books including probably his best known work, The Sugarbag Years - a collection of oral histories documenting the depression. A former trade unionist and radio producer, Tony Simpson's interests are wide-ranging. His books include works on everything from folk culture to New Zealand cuisine and he's helped shape the way many of us think about our history. Chris Laidlaw talks to Tony Simpson about the individuals, writers and thinkers who influenced his own ideas. A list which includes author and economist W B Sutch; broadcaster Jim Henderson; George Orwell; novelist John Mulgan, and; historians Studs Terkell, Eric Hobsbawm, Barbara Tuchman and John Pocock.
Presented by Chris Laidlaw
Produced by Jeremy Rose
11.55 Feedback
What you, the listeners, say on the ideas and issues that have appeared in the programme.