Sunday Morning for Sunday 8 November 2009
Sunday for 8 November 2009
8:12 Insight : Ngapuhi and the Treaty
Insight puts the spotlight on the Treaty of Waitangi, the Declaration of Independence and what the country's largest tribe, Northland's Ngapuhi, believed they were signing up for.
Written and presented by Lois Williams
Produced by Sue Ingram
8:40 Michael Zuern
- the fall of the Berlin Wall and modern Germany
Michael Zuern (right) believes globalisation caused the breakdown of the Soviet Union and the fall of the Berlin wall. On the eve of the 20th anniversary of the destruction of the wall, he talks about how socialist reformers were never aiming for a reunited Germany - and how the mass movement for change was not driven by a desire for liberty or reunification, but for a better standard of living.
Professor Michael Zuern is Director of the Social Science Research Centre Berlin, and a representative of the European Commission.
See also: German Film Festival
9:06 Mediawatch
In Mediawatch this weekend - we hear how some companies like to keep journalists at arm's length from their business, while others go to great lengths to attract them. But what's best for the public?
More and more people are writing stuff for public consumption these days, thanks to the internet, blogging and desktop publishing. But not so many are trained in how to write properly. Mediawatch asks professional wordsmith Mark Broatch about this, and his new guide to help people improve their writing. And Mediawatch also looks at how TV's evening news shows are leaving less and less to the imagination these days.
Produced and presented by Colin Peacock and Jeremy Rose.
9:45

Paul Gough - art and war
Professor Paul Gough (right) is a painter, broadcaster and writer. In his research and work, he challenges how war is commemorated. As Armistice Day approaches, he talks to Chris Laidlaw about conflict, landscapes and remembrance.
Paul Gough is the Pro Vice-Chancellor Research, Enterprise and Knowledge Exchange, at the University of the West of England. He is visiting New Zealand as part of 'Blow 09', Massey University's creative arts festival. An exhibition of Paul's Gallipoli drawings opens on 11 November at the National War Memorial Carillon Building in Wellington and runs to 19 December. Paul is giving a free public lecture on 19 November at 6pm at Massey University, Theatrette 10A02, Museum Building, Buckle St, Wellington.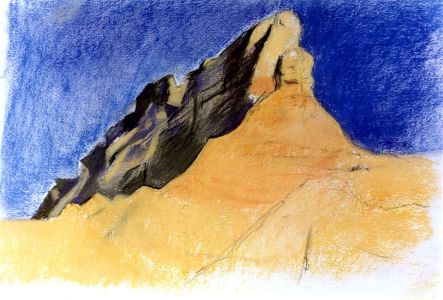 The Sphinx' by Paul Gough, drawn from near Ari Burnu

10:06 Gareth Evans - battling for nuclear disarmament
Professor Gareth Evans (right) is a former Australian foreign minister and is now co-chair of the International Commission on Nuclear Non-proliferation and Disarmament. He believes it's just "dumb luck" that nuclear weapons weren't used during the Cold War or subsequently - either deliberately or by mistake. He talks to Chris Laidlaw about how the flurry of disarmament after the Cold War has stalled - but there are still 23,000 nuclear weapons on the planet and inadequate systems to deal with them.
10.40 Notes from the South with Dougal Stevenson
Heresy, Sedition, Obscenity … Dougal's in Dunedin taking a peek.
10:45 Hidden Treasures
Each week Trevor Reekie takes you on a trip that seeks out musical gems from niche markets around the globe. This week Trevor flashes back to the early days of Clint Eastwood, unveils a new version of a million-seller from back in 1966, as well a stunning new single from Ariana Tikao.
Produced by Trevor Reekie
11.05 Ideas: The 10:10 Movement
In Britain more than 1500 businesses and 40,000 individuals - including the Prime Minister, the entire Cabinet and a couple of hundred MPs - have pledged to cut their carbon footprint by 10 percent by next year. This week on Ideas we talk to the manager of the United Kingdom's rapidly growing 10:10 movement - Daniel Vockins. And then we take a look closer to home to see how difficult or easy it would be to achieve those sorts of savings in New Zealand. Right House's technical manager Rod Endicott visits Ideas producer Jeremy Rose's house and workplace and makes some suggestions as to how he could cut his carbon emissions by 10 percent.
Presented by Chris Laidlaw
Produced by Jeremy Rose
11.55 Feedback
What you, the listeners, say on the ideas and issues that have appeared in the programme.