Summer Noelle for Tuesday 30 December 2014
9:05 Feature interview - Former Australian Prime Minister Julia Gillard
9:30 Gallery visit - The Suter Art Gallery with Julie Catchpole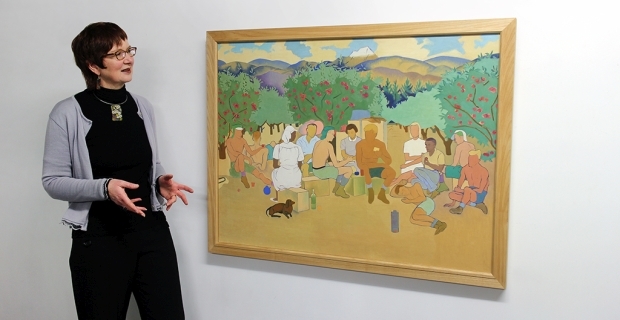 Julie Catchpole with The Apple Pickers by Rita Angus. Image courtesy of The Suter Art Gallery.
9:45 Australia correspondent Donna Field
10:05 Feature interview
Expat journalists Peter Walker on his new novel.
10:35 Summer jobs
DOC hut warden Ross Harroway.
10:40 Regular experts
Simon Farrell-Green on the food trends of 2014.
11:10 Songs of our lives
NZ on Air's Brendan Smyth.
11:30 Student voices
AUT student Claudia Sykes on Burma the elephant.
11:45 Book Club
Actor Adam Brookfield reviews George Orwell's 1984.