Summer Noelle for Tuesday 6 January 2009
Monday to Friday, 10am - Midday
Summer Noelle - Tuesday 6 January 2009
We speak with Scientist Vic Arcus about the year 2009 being the 150th anniversary of the publication of On the Origin of Species (24 November 1859) and also the 200th anniversary of Charles Darwin's birth (12 February 1809).
Broadcaster/journalist Natasha Utting is trying her hand at camping, and discovering all that comes with it.
After the 11 o'clock news Episode Seven ofChickenman!
The longest running radio serial of all time by Dick Orkin (Radio Hall of Fame, April 2002 by the National Association of Broadcasters).
The 60s Radio serial has "aired in more than 3,000 cities in the U.S., Canada, Australia, New Zealand, and worldwide via Armed Forces Radio,making it the longest running radio serial of all time" (2008 Radio Ranch). Many remember the serial from Adrian Cronauer's radio show, the inspiration for the feature film 'Good Morning Vietnam' starring Robbin Williams. This is not to be missed. If you remember it the first time it was broadcast it will still have you laughing and just as confused. If you have never heard it you will become a fan in no time. For more information visit www.gracegibson.com.au or www.radio-ranch.com
Plus New Zealand Cricket legend John Reid talks, well, cricket!
Plus Jack Perkins muses more memories from his cricket days and live music from Music 101 - Hammond Gamble and Midge Marsden.
Playlist
SUMMER NOELLE THEME:
ARTIST:The Mots
TITLE:500 Years
ALBUM:The Mots
BROADCAST TIME:10:06
ARTIST:The Coral
TITLE:In the Morning
ALBUM:Waiting for the Weekend
BROADCAST TIME:10:08
ARTIST:Michelle Shocked
TITLE:Sleep Keeps me Awake
ALBUM:Captain Swing
BROADCAST TIME:10:29
ARTIST:Dimmer
TITLE:I Believe You are a Star
ALBUM:Kiwi Hit Disc 49
BROADCAST TIME:10:41
ARTIST:Siouxsie & The Banshees
TITLE:Hong Kong Garden
ALBUM:Siouxsie and the Banshees: Once upon a time
BROADCAST TIME:11:11
ARTIST:The Pixies
TITLE:Here Comes Your Man
ALBUM:Wave of Mutilation: The Best Of
BROADCAST TIME:11:37
ARTIST:Fleet Foxes
TITLE:Mykonos
ALBUM:Sun Giant EP
BROADCAST TIME:11:51
ARTIST: The Temptations
TITLE:Ain't too proud to beg
ALBUM:Temptations: Greatest Hits
BROADCAST TIME:11:55
Summer Noelle - Your Summer Radio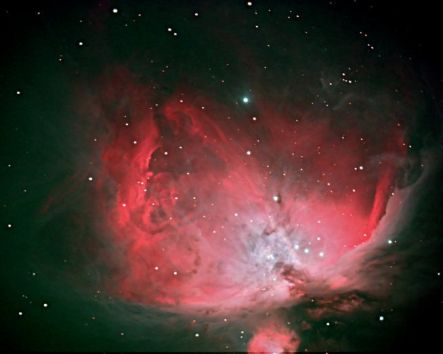 2009 has also been declared the International Year of Astronomy as it is 400 years since Galileo first used a telescope to explore the cosmos. Euan Mason took this amazing image from his backyard observatory in Christchurch which shows the Orion nebula - thanks Euan!