Summer Nights for Friday 3 January 2014
7:10 Diarmaid MacCulloch on the future of Christianity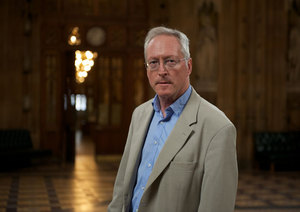 Diarmaid MacCulloch, a history professor at the University of Oxford, is one of the world's most influential - and at times controversial - church historians. He has written numerous books, including, most recently, a history of Christian silence, and is also an expert on the Reformation. In the late 1980s, Professor MacCulloch was ordained as a deacon in the Church of England, but declined ordination to the priesthood because of the church's attitude to his homosexuality.
He  is one of the authors invited to the New Zealand Festival's Writers Week in March.
7:30 Music feature - The Veils
The Veils' frontman Finn Andrew was so excited to be returning to New Zealand to tour in July 2013 that he said he'd "fashion a raft out of mince and cheese pies and Grain Waves and float into the middle of the Waitemata Harbour with a great big grin on my face". We're not sure if that ever happened, but The Veils did play this joyously melancholic show at The Studio in Auckland.
Produced and engineered by Andre Upston.
8 pm News and weather
8.12 Windows on the World - Sahara conflicts
The BBC's International Development Correspondent Mark Doyle investigates the growing Jihadist threat across the Sahara and Sahel regions of Africa, and asks if a series of separate conflicts are becoming part of a wider front.
8:40 Culture wars
Journalist and reviewer Kim Choe examines the latest movies, art exhibitions, theatre, and other cultural events on over summer, and looks back at the best of 2013. This week, Kim reviews The Secret Life of Walter Mitty, August: Osage County, and Walking with Dinosaurs, along with the Christchurch Museum street art exhibition.
9 pm News and weather
9:05 Soundtracks for sunsets
We want to hear your favourite sunset stories, and the music that accompanies them. Where were you when the sun went down? Who was there? What were you doing? And what would be your ideal soundtrack to that moment? It could be an exotic experience or something incredibly ordinary. It might be last night's sunset or one from 20 years ago.
Pick the song you'd most like to listen to as the sun goes down, and join us on Summer Nights to talk about it.
Email summernights@radionz.co.nz with your name, song and phone number, and listen at 9pm on weeknights to hear what people have chosen.
Listen to all the Soundtracks for sunsets choices on Spotify
9:06 Country Life
The team meets rare chicken breeder Ken Vincent, and Bunny and John Mortimer who have a wealth of knowledge about trees.  They've gifted an arboretum they planted to the people of Waikato.
10 pm News and weather
10:17 Late Edition
A review of the leading stories from the day's news.
10.30 Ryder Ripps on internet archaeology
Ryder Ripps in 2009 established Internet Archaeology in an attempt to archive and preserve some content from GeoCities upon Yahoo!'s closure of the site. He explains what treasures of 1990s and early 2000s internet culture he sifted through the sands of the internet for, and why it's important to preserve aspects of what's a very transitory medium, especially as more of our lives and memories make the shift online.
11.06 Womad 2013 - Vieux Farka Touré
In our recordings from Womad Taranaki 2013 we feature Vieux Farka Touré. He has been tagged as the 'Hendrix of the Sahara'. He is the son of Grammy Award winning guitarist the late Ali Farka Touré, and although he is only in his early 30s, he has stepped out from his late father's remarkable shadow with a growing catalogue of releases that embrace cultural collaboration, Malian musical roots and his pyrotechnic guitar abilities.
Music played in this show
Artist: Mavis Staples
Song: In the Mississippi River
Comp: Jones
Album: We'll never turn back
Label: Anti
Broadcast Time: 20:08
Artist: Jose Gonzalez
Song: Stay Alive
Comp: Adams
Album: The Secret Life of Walter Mitty
Label:
Broadcast Time: 20:47
Artist: Steely Dan
Song: Hey 19
Comp: Steely Dan
Album: Showbiz Kids
Label: MCA
Broadcast Time: 21:11
Artist: Sam Cooke
Song: A Change is gonna come
Comp: Battiste
Album: Sam Cooke: 16 top track
Label: RCA
Broadcast Time: 22:33
And our intro music was:
Artist: Gorillaz
Song: To Binge With Little Dragon
Comp: Gorillaz, Nagano
Album: Plastic Beach
Label: Parlophone
Broadcast Time: 7:06