Summer Nights for Thursday 2 January 2014
7:08 Comedian and writer Sandi Toksvig

After more than three decades in comedy, Sandi Toksvig is considered a British national treasure. She is the long-serving host of the BBC Radio 4 political comedy panel show, The News Quiz; author of numerous books - including, most recently, Peas & Queues: The Minefield of Modern Manners; has written for television and theatre, and has just been recognised with an OBE in the British New Year's Honours. Born in Denmark, Sandi performed with the Cambridge Footlights while at university, started her career in children's television, and also played on improvisational comedy show, Whose Line is it Anyway.
7:30 Musical mystery tour
Journalist Christopher Gilbert makes links between songs spanning decades, genres and ideas, in a journey of music appreciation. This week, Chris tackles the topic of stigma: the way in which what we may think about some bands may be misleading. He also takes a look at a different side of some popular groups.
Listen to Christopher's music choices on Spotify
8 pm News & Weather
8:15 Windows on the World - Slavery in Brazil
Brazil's anti-slavery hit-squads are unique. Since 1995, these committed bands of labour inspectors, accompanied by heavily armed police, have rescued 46,000 people deemed to be working as slaves. But Brazil's legal definition of slavery is  contentious. It includes degrading conditions of work, which campaigners say amount to coercion. Linda Pressly meets the campaigners, employers and politicians on both sides of the argument, and hears powerful testimony from the workers trapped in the middle.
8:40 Comfort food
Laura Vincent is a Wellington cookbook author, food blogger and restaurant reviewer. She blogs at Hungry & Frozen, and her book of the same name was published by Penguin in 2013.
Chicken with capsicums, olives, and lime
Lentil dip
Mango sauce for ice cream.
8:05 Soundtracks to sunsets
We want to hear your favourite sunset stories, and the music that accompanies them. Where were you when the sun went down? Who was there? What were you doing? And what would be your ideal soundtrack to that moment? It could be an exotic experience or something incredibly ordinary. It might be last night's sunset or one from 20 years ago.
Pick the song you'd most like to listen to as the sun goes down, and join us on Summer Nights to talk about it.
Email summernights@radionz.co.nz with your name, song and phone number, and listen at 9pm on weeknights to hear what people have chosen.
Listen to all the Soundtracks to sunsets choices on Spotify
9:15 Our Changing World - Summer Science
Great white butterfly eradication; birds at Dunedin Botanic Gardens; Maori rock art; and science "magic" shows.
10 pm News & Weather
10:17 Late Edition
A review of the leading stories from the day's news.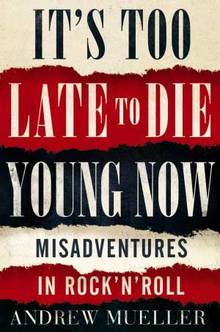 10.30 Music journalist Andrew Mueller
Andrew Mueller talks about what happened to rock after the last hurrah of the British music press. His new book, It's Too Late to Die Young Now, documents his own journey from writing for the Sydney music street press in his teens, to working among his heroes for the legendary UK music weekly Melody Maker by his early twenties. Along with meeting some of those who had made his favourite records, Andrew was also witnessing the end of the British music press' heyday - before the decline of live pub venues and record stores, when music writers' critique still held sway.
It's Too Late to Die Young Now by Andrew Mueller
Published by Pan MacMillan
ISBN 9781742612294
11:06 The Mixtape: Mike Fabulous
Black Seeds guitarist and producer Mike Fabulous has just released his second album under the Lord Echo moniker. He shares with Emma Smith the original afrobeat, dub and psychedelic cuts that inform Curiosities.
Music played in this show
Artist: Simon & Garfunkel
Song: The only living boy in New York
Comp: Simon
Album: Bridge Over Troubled Waters
Label: Matador
Broadcast Time: 20:08
Artist: Franz Ferdinand
Song: Evil Eye
Comp: Alex Kapranos and Nick McCarthy
Album: Right Thoughts, Right Woods, Right Actions
Label: Domino
Broadcast Time: 20:11
Artist: Cat Power
Song: Lived in Bars
Comp: Marshall
Album: The Greatest
Label: Matador
Broadcast Time: 20:40
Artist: Jesse Aycock
Song: Eyelid Sky
Comp: Aycock
Album: Life's Ladder
Label:
Broadcast Time: 21:10
Played during Christopher Gilbert's Musical Mystery Tour:
Artist: MGMT
Song: Introspection
Comp: N/A
Album: Introspection
Label: Columbia
Broadcast Time: 19:40
Artist: Kings of Leon
Song: Dusty
Comp: Angelo, Followill, Followill
Album: Youth and Young Manhood
Label: RCA
Broadcast Time: 19:45
Artist: In Bloom
Song: Nirvana
Comp: Cobain, Nirvana
Album: Nevermind
Label: Geffen
Broadcast Time:19:50
Artist: The National
Song: Don't Swallow the Cap
Comp: Dessner, Devendorf, Dessner, Devendorf
Album: Trouble Will Find Me
Label: 4AD
Broadcast Time: 19:55
And our intro music was:
Artist: Gorillaz
Song: To Binge With Little Dragon
Comp: Gorillaz, Nagano
Album: Plastic Beach
Label: Parlophone
Broadcast Time: 19:06