Summer Nights for Thursday 26 December 2013
7:08 The power of collective ritual
Victoria University psychologist Dr. Ron Fischer examines what drives us to participate in group cultural rituals - anything from a Dawn Service in New Zealand, to attendees at the festival of Thaipusam who pierce their own faces with metal rods - and what society gains from them.
7:30 Musical mystery tour
Exploring the idea that everything in music is related, journalist Christopher Gilbert traces a family tree of rock n roll heritage, from the music of Buddy Holly to that of The Horrors, and everything in between.
Listen to all Christopher Gilbert's choices on Spotify
8:15 Windows on the World
There were numerous reports of atrocities during the brutal war of 1971 between Pakistan on one side and the new state of Bangladesh, which had support from India. The Pakistani Army and Islamic sympathisers in Bangladesh were accused of rape and of mass killings - which some have described as genocide. In 2010 the governing Awami League set up war crimes trials, which have started to hand down convictions this year and is attracting strong public support. However, many international observers have criticised the conduct of the trials as less than free and fair. Farhana Haider asks whether the legal process will really enable Bangladesh to come to terms with its bloody beginnings.
8:45 Comfort food - Christmas leftovers
Food writer Laura Vincent, of the food blog Hungry & Frozen and the cookbook of the same name, gives you a few ideas for getting creative with leftovers, if you're faced at this point with a week of Christmas Ham Salad. She has recipes for ham, cheese, pineapple and chilli sauce toasted sandwich; berry and coconut ice cream, and Boxing Day slaw.
Ham, cheese, pineapple and chilli sauce toasted sandwich
In this order, on a piece of bread, layer ham (if it's the off-the-bone kind, so much the better) a slice of cheese, a pineapple ring from a can and as much chilli sauce as you like. Top with more bread and grill or toast till the cheese melts. Or, fry in a little butter in a hot pan on both sides, or clamp it in a sandwich press.
Berry Coconut Ice Cream
I make this all the time, as it's so utterly instant. Take 300g frozen berries of your choice - I most often use sweet, seedless strawberries –1 cup coconut milk, and three tablespoons icing sugar, and place them all in a food processor. Blend thoroughly, ignoring the horrible noise it makes, till it springs to life and becomes a bright pink, creamy frosty dreamy ice cream.
Boxing Day Slaw (but good any time of year)
9:05 Soundtracks for sunsets
We want to hear your favourite sunset stories, and the music that accompanies them. Where were you when the sun went down? Who was there? What were you doing? And what would be your ideal soundtrack to that moment? It could be an exotic experience or something incredibly ordinary. It might be last night's sunset or one from 20 years ago.
Pick the song you'd most like to listen to as the sun goes down, and join us on Summer Nights to talk about it.
Email summernights@radionz.co.nz with your name, song and phone number, and listen at 9pm on weeknights to hear what people have chosen.
Listen to all the Sountracks for Sunsets choices on Spotify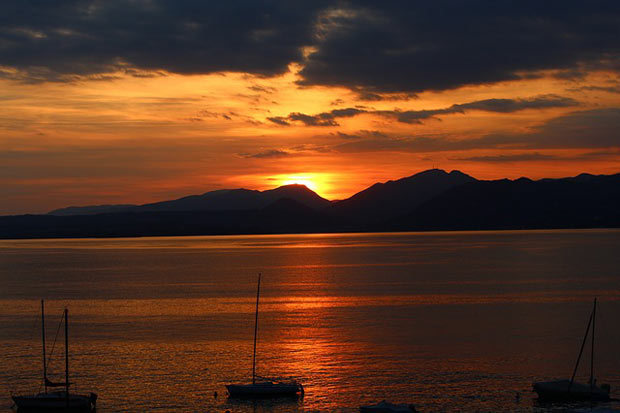 9:15 Our Changing World
A hydrogen barbecue on Matiu Somes Island; cycling in Dunedin; long-finned eels and the yellow-eyed penguin.
10:12 Late Edition
A review of the day's leading news stories.
10:30 Comedian Carl Barron
Acclaimed Australian comedian and purveyor of general awkwardness Carl Barron talks about his unlikely route from roof tiling to comedy.
Carl is bringing his show A One Ended Stick to New Zealand in February.
11:06 Dave Dobbyn and Friends
In May, Dave Dobbyn undertook a series of collaborative concerts with invited songwriters, both emerging and established. The performers joined him on stage for their favourite Dave Dobbyn songs, and he in turn played on theirs.
Featuring Warren Maxwell, Mark Vanilau, Scribe, Marlon Williams, The Bads, and Anna Coddington, this musical exchange resulted in some inspiring interpretations, as we'll hear in this selection of tracks produced by Radio New Zealand during the live performances.
Music played in this show
Artist: Bob B. Soxx & The Blue Jeans
Song: Zip-A-Dee-Doo-Dah
Comp: n/a
Album: Phil Spector: Back To Mono 1958-1969 / A Christmas Gift For You
Label: Phil Spector
Broadcast Time: 8:06pm
Artist: Lorde
Song: 400 Lux
Comp: Yelich-O'Connor/Little
Album: Pure Heroine
Label: Universal
Broadcast Time: 8:10pm
Artist: James Hunter Six
Song: Minute by Minute
Comp: James Hunter
Album: Minute by Minute
Label: Fantasy
Broadcast Time: 8:40pm
Artist: Unknown Mortal Orchestra
Song: Swim and sleep (like a shark)
Comp: Neilson
Album: II2
Label: Jagjaguwar
Broadcast Time: 10:30
Artist: Noah and the Whale
Song: 2 Atoms in a molecule
Comp: Fink
Album: Peaceful, the world lays me down
Label: Vertigo
Broadcast Time: 11.57
Played during Christopher Gilbert's Musical Mystery Tour:
Artist: Buddy Holly
Song: Ting-A-Ling
Composer: N/A
Album: Sassy Sugar
Label: Fantastic
Broadcast Time: 7:30
Artist: Donovan
Song: Get Thy Bearings
Composer: Donovan
Album: The Hurdy Gurdy Man
Label: Epic
Broadcast Time: 7:35
Artist: The Cramps
Song: Goo Goo Muck
Composer: Cook/James
Album: Gravest Hits
Label: A&M
Broadcast Time: 7:40
Artist: Mazzy Star
Song: Blue Flower
Composer: N/A
Album: She Hangs Brightly
Label: Capitol
Broadcast Time: 7:45
Artist: Neutral Milk Hotel
Song: Ghost
Composer: Magnum
Album: Hotel
Label: Merge
Broadcast Time: 7:50
Artist: The Horrors
Song: Do you remember
Composer: The Horrors
Album: Primary Colours
Label: XL
Broadcast Time: 7:57
Tonight's Soundtracks to Sunsets song:
Artist: Hammond Gamble
Song: I'll look over my shoulder
Comp: Gamble
Album: Ninety Mile Days
Label: Liberation
Broadcast Time: 9:10pm
And our theme music was:
Artist: Gorillaz
Song: To Binge With Little Dragon
Comp: Gorillaz, Nagano
Album: Plastic Beach
Label: Parlophone
Broadcast Time: 7:06