Summer Nights for Tuesday 10 January 2012
7:08 Youth Language
Linguist Professor Miriam Meyerhoff of the Department of Applied Language Studies and Linguistics at the University of Auckland on young people and trends in how they use language.

7:30 Kids' Favourite Things - Ailsa
Kids share their favourite summer activities - tonight it's Ailsa who is a fan of horses, glow worms and drawing fairies and mermaids. Check out Ailsa's awesome drawing!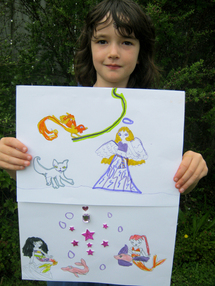 7:35 Nick Bollinger's 'Essential New Zealand Albums'
Episode 9 - Introducing Dinah Lee

8:06 Summer Jam - Disasteradio

8:15 BBC Windows on the World

8:40 Bike Polo
Emma tries her hand at bike polo. List of New Zealand clubs here.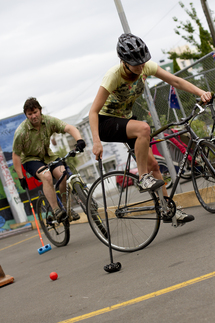 9:06 Smart Talk: Food Crisis
The renowned Australian author, journalist and science communicator Professor Julian Cribb in conversation with Finlay Macdonald about how we are to feed ourselves in the coming years and decades.
10:17 Late Edition

10:30 Museum Visit
We pay a virtual visit to one of New Zealand's museums. Tonight, we're off to Rotorua Museum with museum director Greg McManus.

10:40 Alice Miller - Antarctic Diary 7
Wellington writer Alice Miller's award-winning poetry, essays, and fiction have appeared in The Listener, Landfall, and Best New Zealand Poems. She recently visited Antarctica and recorded an audio diary for Summer Nights.

10:45 Island Time
We explore the culture and history of islands around the world. Tonight, Patsy Vizents, Heritage Officer of Rottnest Island in Western Australia.

11:04 WOMAD Taranaki 2011