Picnic log book. Image courtesy of Kemi Niko Co.
The great outdoors of Rolleston Heights in Mount Cook, Wellington is the "exploration lab" of creative couple Kemi Whitwell (BFA 2010) and Niko Leyden  (BDes Hons, 2011) of Kemi Niko & Co.
Working together since 2012, the pair have a passion for creating playful works of art that are accessible to the public. Rolleston Heights  is their playground— if you pay attention on the walk up the hill you'll see speckles of painted pebbles that have been intentionally  scattered along the walkway, they've installed a container which holds a 'surprise' and if you dare,  you'll pop your hand in, only to pull it out to reveal that it is now completely covered in glitter—the next question— what to do with that hand? There is  'a fairy house' up a tree, and those who have a penchant for wandering off-track may find themselves at the edge of a cliff confronted by a log book which  will require you to think fast and write whatever comes to mind!
According to Kemi and Niko these are 'fun experiments' which help to gauge whether or not people take notice of their surroundings. Niko says that the reason for making these works is primarily about connecting people to each other and the environment, "…we're very idealistic in how we want to make the world a better place— the more you can connect people together the happier people can be".
One of their much loved creations is 'Picnic'— a box-seat which contains a log book and blanket placed on Rolleston Heights, overlooking the city. There are plenty of entries in the log book, many are poetic, funny and endearing offering an insight into the array of people who have made the most of it.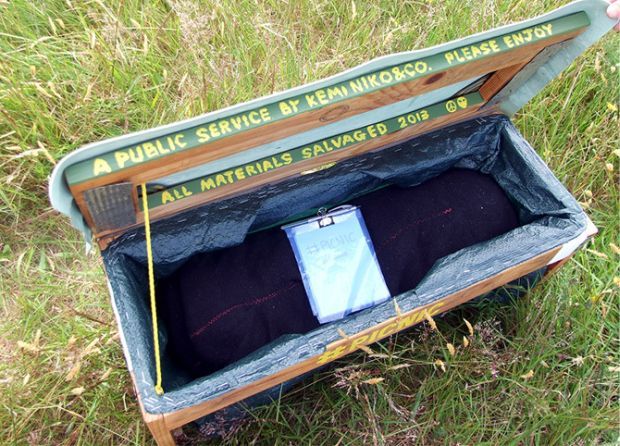 Image courtesy of Kemi Niko Co
Interesting too, is the place in which the art work is assembled. Taking place on an upper deck is their 'deck-shop' situated outside their Mount Cook bedroom window. It can be a tricky juggling act to make the larger pieces, with the deck being a narrow one metre in width, added to that, the risk of something falling onto lower ground—there's no easy way to collect things but to make tracks up and down the house stairwell.
All manner of objects, art and furniture are made solely from found materials and tools. The tools, paints and equipment are incidentally, nailed and hooked securely to the outside wall of the house.
Kemi and Niko are also adept at making use of the space that they have, and their aesthetic is surprisingly clean line and minimalist — they've affixed a mini glass house or 'jungle room' to their bedroom which provides fresh herbs, whilst also providing additional warmth to the room, and they've constructed a seamless raised floor made partially from cardboard which allows for plenty of storage. Their work-life ethos was reinforced via a trip to India a few years ago, instilling in them a desire to live sustainably— to own and buy as little as possible. "It's not that we don't want to buy resources, [but] there are abundant materials on the Wellington streets".

Kemi and Niko's Jungle Room. Image courtesy of Kemi Niko Co.
Kemi  contends that although everything in their creative arsenal has been scavenged, it doesn't mean that they're inviting people to deposit unwanted items on their door step. "I don't take everyone's rubbish, I have a really critical eye [and] it's been trained for years  –anything that I pick  up I know that I will have a use for it…"
Kemi and Niko are now working towards an upcoming exhibition and sculpture series in collaboration with Wellington City Council for summer, 2014/15.  
Find out more about Kemi and Niko go to their website or see more images on their Flickr