When I head up to The Carwash Gallery and Studio in Auckland's Upper Queen Street, there is no signage on the building apart from a little sticker on a glass door which reads: Method and Manners Art Studio. The door is locked and I'm meeting artist Tim D along with a few other Carwash residents.

Carwash Residents, L-R Nicholas J Boyd, Anna Hanson, Nigel Roberts and Tim D by Howard Sly.
After knocking a few times, Tim greets me and leads me up to the studio space —they've been painting and generally giving the space a bit of a spruce up after rebranding from the former Method and Manners studio. Their focus is on exhibitions where both the residents of the studio and outside artists can pitch and then exhibit their work, and as for the name? The building itself was once the office to a car wash.
On my visit, I'm not sure if I can imagine what it might look like at show time; there are bits and pieces of art laid out on the floor, along with a large communal workshop table.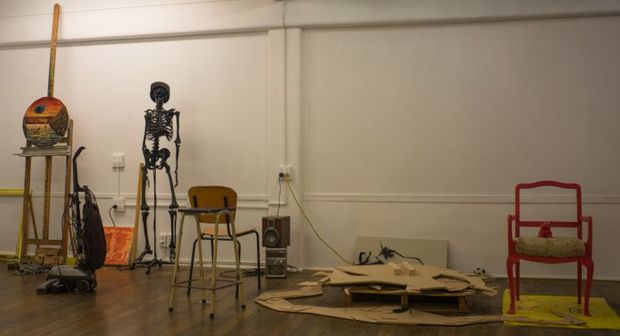 "Artists spaces are always the messiest [because] you have to make mess in order to make art."
Tim D assures me that it cleans up pretty well though—they've already had a few shows and are working on another. Of course, sprucing up the space has taken slightly longer since they're pulling on their own resources and their 'pockets aren't very deep.'
Tim has strong ideas about art and artists and the potential of what a city like Auckland can offer with regards to art and culture on a less commercial scale. The 26-year-old is ambitious and champions an 'authentic' voice. In terms of his own documentary photography and video, he says that being an inhabitant in the world(s) in which he's shooting always makes for the best images. Skateboarding was one of the major influences that has informed his work as an artist, something which he says combines music, the art on the board and the skating itself, but he's always drawn and done art. And helping other artists is a motivator too...
what's cool about having [emerging artists] here is that putting on a show isn't intimidating…a lot of people go off to Melbourne and Australia, but I think we have something better here. [We need] to give people stuff to do [so they can] come and experience some art, have a drink and just experience some culture; it's just been a real privilege to just give artists a place to come and express themselves.
For more info about The Carwash check out their website here.
In the audio story Sonia Sly speaks to Anna Hanson, Nigel Roberts, Tim D and Nicholas J.Boyd