"I'm not religious but I do pray. A lot. It's just someone I pray to out there."
When poet Sam Hunt was nine years old he was strapped by a harsh nun at his convent school. That turned him off religion he says, but he's still a praying man.
Sam grew up on Auckland's North Shore in the 1950s, in a house infused with poetry, music, and some spiritual contemplation. His lawyer father was 60 years old when he was born and not a practicing Christian. He was also 30 years older than Sam's mother, who had been brought up a Roman Catholic.
Today I've gone to talk to Sam about things spiritual. We meet at his little cottage beside what he calls the "salt river", feeding into the Kaipara Harbour. He's lived here for more than a decade with his second son Alf, now 17, who's in his last year of college at nearby Ruawai. 
As a child, Sam remembers having a "very strong" relationship with his parents, a father who took him to classical concerts at the Auckland Town Hall, and a mother who taught him astronomy and a love for poetry. Sam was sent to Catholic Convent School, where one day he remembers putting up his hand and asking whether the same God looked after all the other universes. For that he was thoroughly punished. He thinks it was quite a reasonable question. It's one for which he says, at almost 69, he still hasn't found the answer.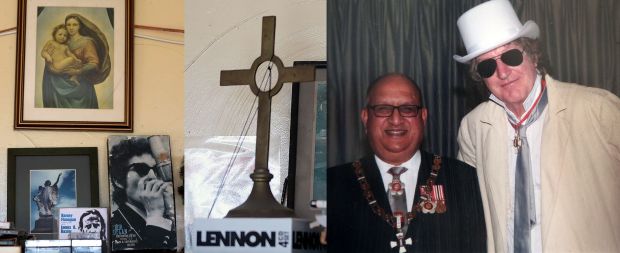 Left and middle: Some iconography at Sam's house. Right: Getting a 'gong' from the Governor General.
Although he doesn't believe religious teaching, he does pray. He won't say who or what he prays to… although later in our conversation he admits it could be his muse. He says it comes from the same place as his poetry.
Sam remembers as a boy being transported to "a whole new sphere" while hearing cellist Pierre Fournier play Dvorak's cello concerto. There is music to his poetry. Sometimes he thinks of it being in a particular key, as in a music score. He says it's all a "bloody metaphor, but in that metaphor there is truth".
Sam Hunt says he values where he lives, as the silence is important in helping him compose. He has also visited the Cistercian monastery in Hawkes Bay where he finds the peace and the plainchant very restoring. "It was right up there with Beethoven and Bob Dylan".
After he'd written a piece called Wavesong, his mother remarked that it was the most beautiful prayer she'd ever heard. Wavesong is now part of a new album put together by Sam in collaboration with Dunedin singer song writer, David Kilgour. It's to be released on May 1st, which Sam says he favours because it's a day that honours Mary, the Mother of Jesus. "I have a lot of devotion to Mary, although I don't believe in The Virgin Birth. It's all a bit abstract."