Otago Harbour by Roger Mortimer, winner of the Paramount Wallace Arts Prize 2014
"I don't want to know everything I'm doing, or there'd be no fun in it." – Artist Roger Mortimer on analysing his painting.
His work has been called an "allegorical scrambling of time and geography that pushes at the limits of the human imagination". He's Auckland painter Roger Mortimer who has just won the Paramount Award of this year's Wallace Arts Award for his work Otago Harbour.
It's a painting that depicts devil-like and angel-like beings, figures with rocks on their heads and even a dragon disembowelling a figure.
Roger uses old maps and charts of New Zealand as background to his paintings. On the day I visit him, he seems pleased to be able to point out, in his winning work, St Clair Beach because that's where his wife, psychotherapist Gina Geisreiter comes from.
Roger says many of the figures in his works are based on old drawings of Dante's inferno, but when I start grilling him on what exactly it all means to him, he seems quite discomfited. Eventually Gina comes to his aid by saying nothing that's depicted should be taken literally.
It was critic John Hurrell who called Roger's work "an allegorical scrambling of time and geography – oddly surreal – and humorously startling".

Details from Roger's artwork
Gina Geisreiter says some people think Roger's paintings have a dream-like quality, and his work does seem to come from a deep place in the psyche. "What I love about them, is that he is always representing both the light and the dark. Sometimes the dark objects represent repressed aspects of our culture that need to be brought out".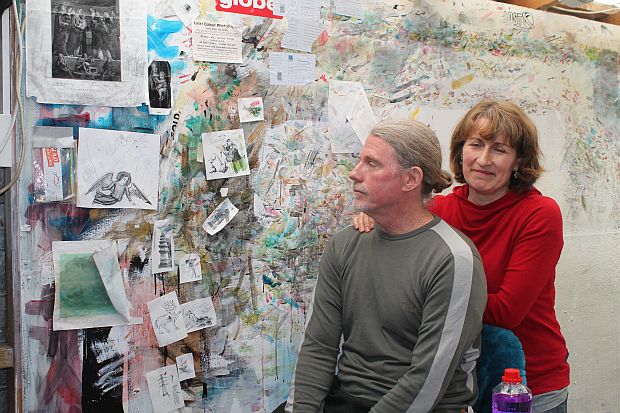 Roger Mortimer and Gina Geisreiter
Roger says all art is autobiographical in some way, and it's like a mirror. "I'm interested in what's in the mirror".
Roger was bought up a Catholic, and as a young man, discovered Buddhism. He refers to himself as Catholic Buddhist and thinks his Catholic beliefs put imagery to the Buddhism. His Buddhist practice also helps calm his mind. He also likes the surf, and Gina points out that the sea is a strong symbol of the unconscious.
Roger talks to David Steemson about his life and work.

Left: Cobweb-covered Madonna and child in the artist's workshop. Right: Roger surfing
The Wallace Award prize gives the artist a six-month residency at the International Studio and Curatorial programme in New York.