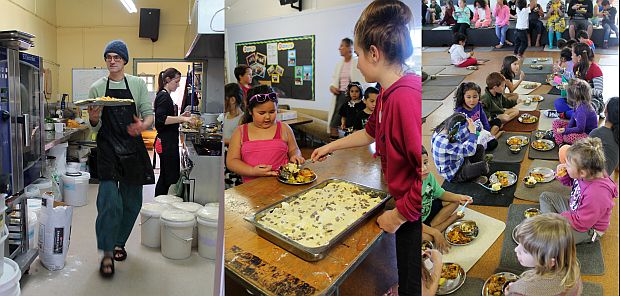 "Just the fact that they are getting a nutritious meal that is spiritually potent, that is totally satisfying, we don't need anything else than that."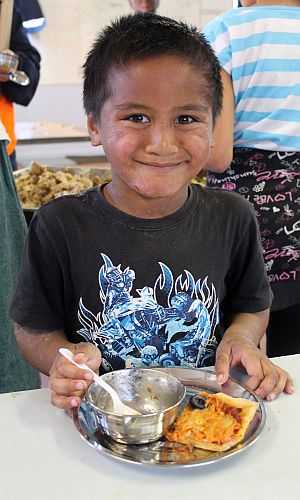 In the past three years, Hare Krishna devotee Buddhi Wilcox and his team of community volunteers have delivered 70,000 meals to school children in and around the Northland city of Whangarei. And they've been doing it all from a kitchen not much larger than one found in an average home.
Not content to just keep "talking" about how to tackle the issue of child poverty in New Zealand, Buddhi took matters into his own hands and established the Food For Life Northland Charitable Trust with his wife Suvarna. "I just got tired of it in the end," he says.
"After one particular meeting I just thought, I've had it with all these meetings, it's not going to go anywhere. So I just went to one of the schools directly. And they said when you can start?"
Within a week Buddhi started bringing hot lunches to approximately 350 children in two decile one schools in Whangarei. So popular is the programme, it now provides hot lunches to approximately 1,000 school children in five schools, with a number of other schools waiting to join.
A lunch costs approximately $2 per child to prepare and deliver. The school is asked to contribute $1 per student and the trust contributes the rest through fundraising efforts and donations. Nearly all the food used in the meals is donated, from fresh vegetables and fruit from growers at the weekly Whangarei farmers' market, to herbs and even flowers from local gardens. A small army of volunteers help each day preparing the lunches, as well as meals for the community café the couple also run. The café is open three days a week, feeding anyone who walks through the door for no more than a koha or donation.
"What's really blown me away with the whole project has been the involvement of the whole community... it's become a meeting ground where everyone can feel they can participate… it's an example of how a community can come together to solve a problem."
And while the social aspect of both the café and Food For Life programme is a strong catalyst for Buddhi and his team, he says the real motivation lies in helping people awaken their spiritual life. "It's not that we're trying to make Hare Krishnas, it's the fact that we want people to take up spiritual life," he says. "We're laying foundations for future generations with these things and so, they'll teach their children certain values and the prasadam that they're eating every week is having an effect on their heart and consciousness and it will manifest in the years to come."
Lisa Thompson meets Buddhi Wilcox to talk about his bid to try and tackle child poverty in his region.
About Food for Life
Hare Krishna Food For Life is a non-profit organisation that provides free nutritious vegetarian meals, known as prasadam, to the needy. It is the welfare arm of the Hare Krishna movement (ISKCON). Food for Life has been established since 1980 and currently operates in every major city and country in the world serving over 1.5 million free meals worldwide every day.
The goal of each Food For Life centre, as established by the founder of ISKCON and Food For Life, His Divine Grace A.C. Bhaktivedanta Swami Prabhupada, is that no one should go hungry within a 15 kilometre radius of any place where Hare Krishna devotees live.