Memories of Water
Through the azure blue
heavens
I lift the colour of infinite
and hold a glimpse of it in my hands
the whispering tide
withdraws into silence
and my silver skin is revealed
again
as fresh as the day
I was born.

- Caroline Robinson

Basket of Dreams by Caroline Robinson
Memories of Water
Water is one of life's most precious resources and something that has continued to inspire the work of Auckland-based eco-artist Caroline Robinson whose project Back To The Source has been an off-shoot of an online residency through New Zealand arts website: The Big Idea. Most of her work on the theme of water has manifested as poetry, video and establishing conversations with a burgeoning international community of like minds. Earlier this year, Caroline was invited to speak about her water project at a conference run by  The International Living Futures Institute whose vision is all about building a global movement in pursuit of a future that is socially just, culturally rich and ecologically restorative.
Gallery: Memories of Water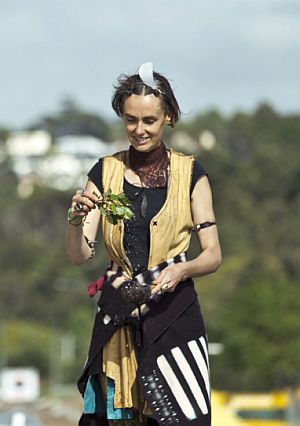 Philosophy
Caroline originally formed her arts practice through costume design and the World of Wearable Arts, but for the best part of sixteen years she has been working on public artworks such as; Kaitiaki — a large installation based at North Egmont Visitors Centre, as well as collaborating on civic projects which include; Te Hokinga Mai: The Bridge of Return, Albany Lakes Arts Bridge.
Caroline's aesthetic is organic in nature — there is an essence of spirit, freedom and fluidity that is invoked in her work. Her ethos is one of sustainability, but there is a strong spiritual basis that underpins each work, and aim — to create harmony and unity between people and the environment.
Photo of Caroline Robinson by Laura Forest Luna