Stillwaters Community
Stillwaters Community in Wellington is a bright yellow house situated in Wellington's Te Aro, a stone's throw from Cuba Street. It houses ten tenants and has a history of giving to the community. Part of belonging to the house involves opening the doors to the public every Friday evening for s shared community meal and Sunday services. And with its no questions asked policy,  the house has become a safe haven and place to find genuine friendship and solace for those who have often have nowhere else to turn.
Sonia Sly visits the house to meet the residents and people who have become part of the Stillwaters family.

Stillwaters has an unassuming facade, much like those who belong to its community. Image courtesy of Stillwaters.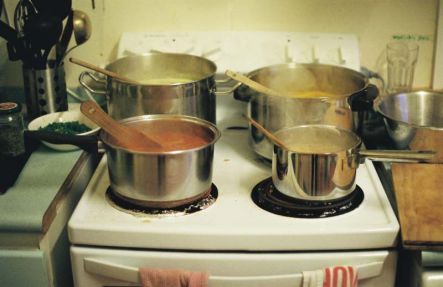 Pots on the boil for the shared Friday community meals. Image courtesy of Stillwaters

The walls of the Stillwaters lounge with arts and crafts made by its wider community. Image courtesy of Stillwaters.