Temple Prostitution
In order to make sense of the present it's important to look into the past. Sonia Sly investigates the unknown world behind some of India's sex trade, past and present.
Historically within the realm of temple  worship in Hindu practice, young girls and women were gifted to the gods and although their roles required them to be sexually available to the priests, they were also taught the arts, and to read and write. 
Will Sweetman (Senior Lecturer, Religious Studies Otago University) provides an insight into the historical context for these women otherwise known as Devadasis. And Otago University PHD  Fellow- Nikki Aaron, who is currently based in Southern India, informs us of the contemporary role of Devadasi's and the attack on the third world prostitute.
This week on Spiritual Outlook Sonia Sly investigates the hidden world of the Devadasi - a Hindu religious practice where young girls are introduced into adulthood and the sex trade via temple worship.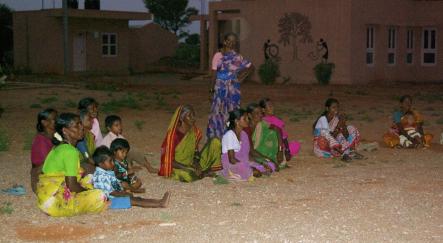 Devadasi women. Image courtesy of Nikki Aaron.

Left: Nikki Aaron PHD researcher currently in Southern India. Right: Will Sweetman, senior lecturer in Religious Studies, Otago University.