Little Barrier Birds to Rotoroa
You arrive with a bang on Little Barrier Hauturu. The island's been a wild life sanctuary since 1897, there's no jetty, and the boat carrying visitors lands by speeding up a ramp on shore, and then being winched up, stunned passengers and all, to the boat house.

On the ramp
 A team of scientists has been collecting birds on the island for transport to a new sanctuary on Rotoroa Island. Visitors to Hauturu are by invitation only, and for Spectrum David Steemson is part of a group invited to watch the final bird collection work.

(Left) Popokotea gets final check before relocation to Rotoroa Island. (Right) A very cross bellbird.
He meets the DOC families living on Little Barrier Hauturu, including two youngsters Liam and Mahina who enjoy an idyllic upbringing. David talks to scientists spending a week of perfect weather on the island, and discovers how lovingly the captured birds are tended.


(Left) 9 year-old Liam shows off his fossils. (Right) 11 year-old Mahina.
Eighty Tieke (saddle back) and Popokotea (white heads) were eventually flown to Rotoroa Island. They were the first species to arrive in the new sanctuary, which is a joint venture between Auckland Zoo and the Rotoroa island Trust.

The bird's larder, proudly presented by chef Sharon Kast.
You arrive with a bang on Little Barrier Hauturu. The island's been a wild life sanctuary since 1897, there's no jetty, and the boat carrying visitors lands by speeding up a ramp on shore, and then… Read more Audio
Little Birds on the Move By David Steemson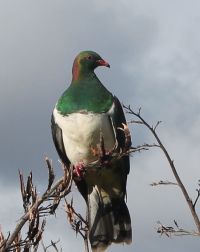 It's New Zealand the way it must have been a thousand years ago. Little Barrier, Te Hauturu-o-Toi, lies about eighty kilometres north of Auckland city, It's been a closed wild life sanctuary for over one hundred years and it's a hot bed of native bird life.
Tui, bell birds, saddlebacks (tieke), stitch birds, white heads (popokotea), kokako and kiwi… all carry on as if they own the place. Which they did of course, before the first Maori settlers arrived.
Members of this native bird population are being used to colonise Auckland's newest bird sanctuary on Rotoroa Island, at the southern end of the Hauraki Gulf  in a first-ever joint venture between Auckland Zoo and the Rotoroa Island Trust. I paid a visit to Little Barrier, by invitation only, along with staff from the zoo and the trust to see the final stages of the bird collection.
We came in a big boat but had to be shuttled ashore in a tinny. You arrive on Little Barrier with quite a bang. There's no jetty on the island, you see, and the tin boat carrying visitors lands by speeding up a ramp onto the shore and then being winched up to a boat house. Stunned passengers stay where they are until told it's safe to disembark!
On Little Barrier a hand-picked group of scientists and volunteers spent a week using mist nets to tenderly capture  the required number of male and female saddlebacks and white heads for Rotoroa. As usual they capture far more boys than girls. The female birds are more wily and harder to collect! After capture each bird checked out and banded before being put into the temporary holding aviaries.
Although Little Barrier has been a sanctuary since 1897, it's only in recent decades that the kiore rat and wild cat population has been eliminated. For birds this must be paradise on earth. Not a bad place for humans either, particularly the lucky ones who live here.
Two families who work for DOC are permanent residents here, and include two of New Zealand's luckiest children, siblings 11-year-old Mahina and nine-year-old Liam Walle.
Before coming to Little Barrier three years ago, the family lived on Maude Island in the Marlborough Sounds. Mahina is already a keen helper of the many scientists who regularly visit, while Liam is right into boat building, and has a huge and fascinating collection of objets found round the island.


Liam with his found objets and boat design
It seems everyone gets well looked after here. Once the birds are captured they are fed enormously before they're transported. Chef Sharon Kast supplies the aviaries with lashings of fresh fruit, four berry syrup, home-baked bird cake, and meal worms. All designed to help them survive the trauma of their capture and then release into strange surroundings.


Fruit for feeding the birds, two saddlebacks dining on mealworms
Three days later the birds arrive at Rotoroa Island by helicopter. They're the first immigrants to the new sanctuary on the island, which has been extensively re afforested by the Trust and all paid for by publicity-shy philanthropists Neal and Annette Plowman.
Unlike Little Barrier, Rotoroa is an open sanctuary, and visits by schools are being promoted by the island trust and Auckland Zoo. In fact anyone who wants to can buy a ticket to Rotoroa to find out what's happening there for themselves.

Rotoroa Island: Old school house beside the new exhibition centre, view of the island. Courtesy Rotoroa Island Trust