Katie's Coffin Club
Retired Rotorua mid-wife Katie Williams has spent the last few years, ticking off her Bucket List: get a tattoo, go skydiving, build my own coffin. The casket is now tucked away at her house… Read more Audio
Retired Rotorua mid-wife Katie Williams has spent the last few years ticking off her Bucket List: get a tattoo, go skydiving, build my own coffin.
Katie Williams with coffin.
The casket is now tucked away at her house, decorated in burgundy wallpaper, some of her 'bling' and the words 'Live, love and laugh'. Katie also set up a Coffin Club which now sees  members get together every Wednesday to cheerfully build and decorate their coffins.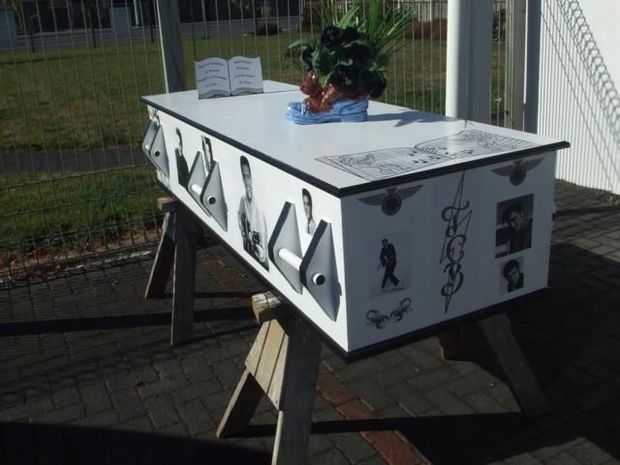 Raewyn's Elvis coffin (Courtesy Chris Mills).
For Spectrum, David Steemson pays a call and finds a jolly production line in full swing.
Geraldine is painting New Zealand scenes on her coffin.
He meets Kay,  who's got snowdrops on her coffin, Raewyn who has her 'Elvis' coffin set up as a dressing table at home, and Jim who's put all his important documents in his!