Fresh Horizons
Wellington secondary school students hone their talents and try out art-related ideas in Fresh Horizons workshops supported by the Tautai Contemporary Pacific Arts Trust. Spectrum's Jack Perkins drops… Read more Audio
Since 2001, more than 1000 secondary school students have benefitted from Fresh Horizons workshops in centres around the country. Students hone their talents and try out art-related ideas in these workshops supported by the Tautai Contemporary Pacific Arts Trust.
Malaki with his artwork 'Crucifixion'.
In July, Massey University's College of Creative Arts hosted Fresh Horizons workshops and students from secondary schools around Wellington were tutored by multi-media artist Niki Hastings-McFall, drama producer Fiona Trulove, and fashion designer Lindah Lepou.
Fresh Horizons tutors (left) Niki Hastings-McFall (multi media), Fiona Trulove (drama), and Lindah Lepou (fashion).
All students have a Maori or Pacific Island connection and are encouraged to find their own voice and take risks in expressing themselves in art. The tutors are not expecting refined finished products. The multi-media workroom resembles a two dollar shop while Lindah Lepou's fashion students have only paper, plastic, sticky tape and glue to work with.
Just paper, plastic,sticky tape and glue.
Since its inception in 2001, Fresh Horizons organizers have kept tabs on the scheme's success and found that many who have experienced the course have gone on to pursue hobbies or careers in Pacific art. Spectrum's Jack Perkins drops in on the three days of workshops.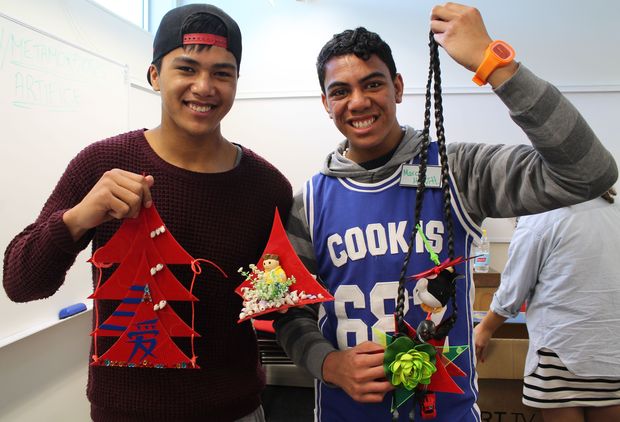 Samoa (left) with his artwork 'Unity' and Marcus Hewitt with 'Recreation'.