Dealing to the Wasps
Sue Stewart has spent 30 years keeping wasps at bay in the Banks Peninsula township of Akaroa. Deborah Nation joins Sue as she deals to the critters nesting in a hedge. Audio
Sue Stewart took on the responsibility for the wasps of the Banks Peninsula township of Akaroa from the time she discovered one attacking an innocent little Bellbird. From then on she vowed to deal to the little blighters and has been systematically destroying nests, summer and winter, for 30 years.
Sue Stewart loads her spray gun with her secret powder.
Nominated for the monthly Akaroa Citizens Award on Queens Birthday weekend, she thought, for an extraordinary moment, she'd got a gong but was equally happy to discover that she had earned something more local, albeit less illustrious.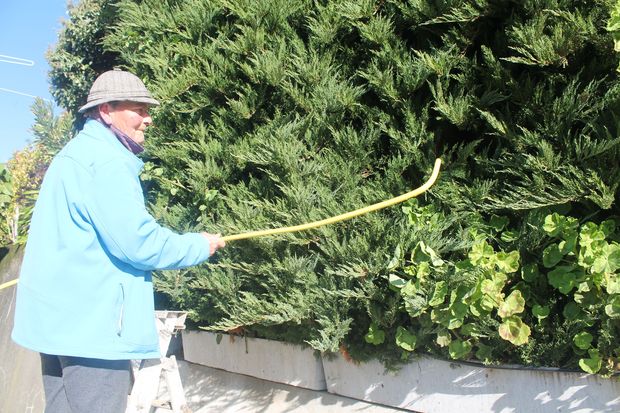 Spraying the nest.
One of six children of a long-serving local Doctor, Sue was raised in the historic Lavaud House. She recalls a happy and free childhood where she and her siblings roamed the hills and beaches always knowing that people in the town would keep an eye on them.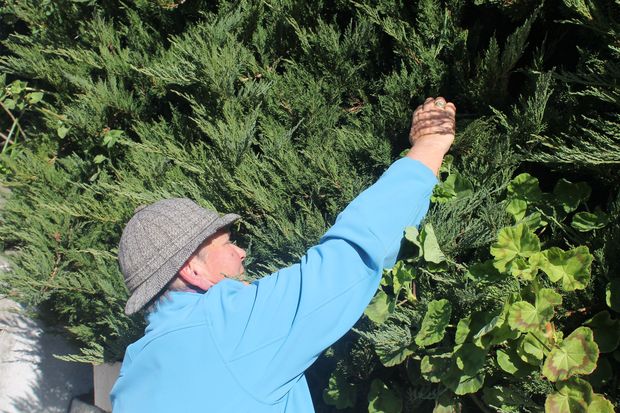 Just checking.
Spectrum's Deborah Nation joins Sue on one of the small steep streets above Akaroa, as she deals to a wasp nest, and tells of the intricate behaviour of the 'little sods' and the satisfaction she gets from exterminating them.